911 witness to explosions DIES -- foul play?
http://www.youtube.com/watch?v=VQY-ksiuwKU
part 1
part 2
Key 9/11 Witness Jennings from LooseChange apparently dies
Key Witness to WTC 7 Explosions Dead at 53
(It would be very helpful if someone in NYC could provide an obituary about the passing of Mr. Jennings. If you can find one and scan it, send it in here, or to aaron@infowars.com - This would confirm the verbal information obtained by Infowars. -rep.)
UPDATED SEPT 17 4:05 PM CST: NYC Housing Authority spokesman Howard Marder has now officially confirmed that Barry Jennings indeed passed away approximately a month ago after several days in the hospital, matching confirmations from several other employees at the Housing Authority. Marder commented that Jennings was a great man, well liked by everyone at the Housing Authority, and that he would be missed. No other details were available.
Key Witness to WTC 7 Explosions Dead at 53
Emergency coordinator and 9/11 witness Barry Jennings has passed away with controversy about WTC7 still hot– as the BBC hit piece and NIST report have been released to counter Jennings' exclusive testimony of explosions inside Building 7
Aaron Dykes - Infowars.com - September 16, 2008
Barry Jennings, a key 9/11 eyewitness who was an emergency coordinator for the New York Housing Authority, has passed away at age 53 from circumstances not yet disclosed. A spokesperson for the Housing Authority has now confirmed his death, after weeks of rumors circulating online, but refused to give any further details.
This office has not yet been able to contact anyone in the Jennings family and the official cause of death is not yet known, but online comments have reported the date of death as August 19, 2008.
It is very unusual that a prominent — and controversial– 9/11 witness would die only days before the release of NIST's report on WTC7 and shortly after a firestorm erupted over his testimony that he heard explosions inside the building prior to collapse of either tower and that there were dead bodies in the building's blown-out lobby.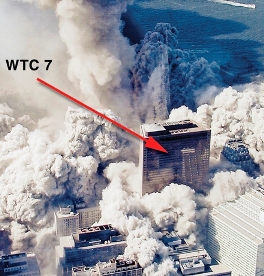 the momentum is not carried through. The top part is melted away before it hits the ground!
THINK!
posted by u2r2h at 7:16 PM