USA delaptidated and in ruins...
OPINION
Mark-to-Mike: Reassessing myself
By Michael Silverstein
Last week, the Financial Accounting Standards Board (FASB), which determines how we measure value in the material world, made a major rule change. Prodded by that noted statesman and keen economic thinker Rep. Barney Frank of Massachusetts, the board changed the so-called mark-to-market rule in a way that will dramatically improve the look of bank balance sheets.
Mark-to-market is a simple concept: You value the assets on your books at their current market value. The new rule, however, would allow banks far more leeway in this regard. They could opine that some of their assets are really worth more than the market says they are. They could thereby increase their reserves, which in turn would allow them to lend more to businesses and consumers, at least theoretically.
This change bothered me at first. I was reminded of how strongly Adam Smith emphasized the importance of consistency when it comes to valuing assets, noting the inherent dangers in changing measuring standards to accommodate near-term challenges. FASB, I thought, had ushered in mark-to-made-up, or maybe even mark-to-Madoff.
But then I realized how a bit of inconsistency in valuing assets could better my own life.
Certain difficulties - too painful to enumerate here - have caused a sharp devaluation of my credit score. By simply applying FASB thinking to this score, however, I would qualify for additional borrowing.
This would turn me into the shop-till-I-drop consumer I used to be, advancing the Obama administration goal of reanimating the market with additional spending. If other consumers also did a bit of credit-score revaluation, the economy would be bubbling again in no time.
There's also the business of my house. Who says it has depreciated just because the surrounding properties are boarded up and regularly visited after dark by people who like to party? The market? What does the market know?
I say the value of this house has actually gone up - because I think it has gone up. So enough with the foreclosure notices. Give me a third mortgage on the place, based on my own higher estimation of its worth.
Lots of taxes are based on someone else's asset valuations. So are alimony payments. But what do tax collectors know? And who says some judge knows my real worth better than I do? Just give me a pocket calculator and watch me FASB my way to solvency.
Look my way, Barney Frank. Do for me what you did for the banks. I don't want a government handout; that's socialism. Just give me the right to reassess everything I own or owe, and I'll consider myself fully bailed.
www.philly.com/inquirer/opinion/20090409_Mark-to-Mike__Reassessing_myself.html
Web site documents Providence's abandoned houses
04:37 PM EDT on Sunday, April 5, 2009
>
The Providence Journal / Mary Murphy
PROVIDENCE — Each morning on his way to work in downtown Providence, Josh Oakhurst takes a hard look at his city.
He sees boarded houses, their windows sealed shut like the eyes of corpses. He sees houses gutted by fire or vandals, their lawns littered with debris. He sees scenes of neglect and decay that make him angry.
Now, he wants other people to get angry, too.
"Why is this happening to these streets?" he wants people to ask. "Why is this being allowed to happen? And what are we as a city doing about it?"
The 27-year-old Web manager for an advertising firm who "likes to take pictures of ugly houses" has launched a new Web site with two of his friends called www.forgottenprovidence.com.
Together with Sam Holland, a Web designer, and Myles Dumas, a graphic designer, Oakhurst is hoping to build a grass-roots campaign to tackle the problem of foreclosed, abandoned and vacant houses. Their Web site combines photographs of boarded and abandoned houses with links to property data from a local nonprofit, The Providence Plan, and real-estate information from Zillow.com.
By photographing the houses and assimilating the available public data about them, the creators of Forgotten Providence say on their Web site that they hope to provide information that might lead to changes in code enforcement, tax laws and the way the city deals with owners who fail to keep up their properties.
Forgotten Providence is among an array of hyper-local Web sites, from the simple to the sophisticated, which combine on-the-ground news gathering with information from government and private databases. A forerunner of this new genre is EveryBlock ( www.Everyblock.com), a start-up financed in 2007 with a two-year, $1.1-million grant by the Knight Foundation. The Web site, created by a former journalist for washingtonpost.com, amasses public information from nine cities and allows users to enter any address, neighborhood or ZIP Code and bring up recent public records, news stories and other geographically relevant Web content.
"These kind of Web sites make data available that before was not easy to get to for average citizens. And information is key in a democracy," said Marc Fest, vice president of communications for the John S. and James L. Knight Foundation. "All our media innovation efforts have one thing in common: they serve the information needs of communities."
The national foreclosure crisis has spawned an array of Web sites, some more artistic than informational, devoted to portraying foreclosed, vacant or abandoned properties. They include www.forgottenmichigan.com, which artistically renders vacant mills and commercial buildings, and www.foreclosurephotoproject.org, created by a national nonprofit based in Chicago to show "the human suffering and community devastation spawned by an unregulated mortgage industry," according to its Web site.
Of course, a Web site of this kind is only as good as its information. The 45 houses featured on www.forgottenprovidence.com — among hundreds of vacant houses throughout the city — each has its own paper trail, some of which is not accessible on the Web. And the information that is available n the Web can quickly become outdated.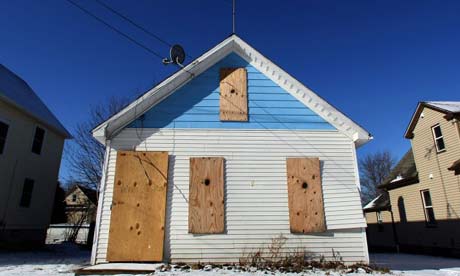 For example, a house at 284 Amherst that is featured on the Web site with a posting date of Jan. 8, 2009, no longer exists. The city demolished the house in early December, said Sheila M. Barrett, the city's director of the Department of Inspections & Standards. Another 12 houses on the site, she said, have pending court cases over code violations.
The city also has no electronic database of foreclosed and vacant properties, which makes tracking ownership more difficult. (A bill introduced into the General Assembly would require lenders to notify municipalities when they file foreclosure deeds to enable the state to create a "foreclosure registry" to track properties.)
"Anything and everything that we can do to raise awareness of the problem of boarded and vacant properties [is welcome] when we have people sleeping on the floors of shelters," said Brenda Clement, executive director of the Statewide Housing Coalition. "[But] trying to put that property back to productive use by returning it back to a home for somebody instead of a blight on the neighborhood … is not as easy as taking a snapshot of that property."
Holland, the co-creator of Forgotten Providence, said the Web site "isn't about 'aestheticizing' a national crisis" but rather it's about "making it a community activist platform."

Their Web site states, in part, their purpose this way: "Through the examination of vacant and abandoned housing by means of photographic documentation and assimilation of all accessible, public data, Forgotten Providence aims to play a role into providing context for this growing problem, and a voice for the possible solutions."
More accurate, up-to-date data and better coordination between the city's stakeholders –– "government, nonprofit [groups], nonprofit developers, neighbors, homeowners and aspiring homeowners" –– is needed, the Web site says, in order to tackle the problem.
Dumas, 28, who is from upstate New York and graduated from Providence College and the Rhode Island School of Design, has been photographing the Olneyville neighborhood. If he sees somebody walk by, he said, he tries to strike up a conversation.
"Do you know who used to live here?"
The creators of Forgotten Providence hope to track what happens to each of the properties they photograph. They also openly vent their outrage at the sorry condition of these houses — and invite others to do the same.
A posting for a house at 14 Gordon Ave.:
"983 sqft of blight in a blighted area with blighted factories and blighted homes. Forgotten you might say. Yours for $20K. Not interested? No one else is, either."
And this one for a house at 46 Doyle Ave.: "Not even a nearby Whole Foods can save it."
Over time, people tend to become "desensitized" to scenes of urban decay, Oakhurst said. "That's why it's called Forgotten Providence. As neighbors, we haven't forgotten."
Oakhurst said that he wants to try to help solve the problem, too. "We'd like to play a role in getting these houses to people who will live in them and love them and transform the neighborhoods," he said. "I think we're still trying to figure out exactly how we fit into this civic duty, but this is a start."
The process of documenting houses is slow and time-consuming, and they hope to get other photographers to contribute. Earlier this week, Oakhurst (who photographs under a pseudonym Stump Blankenship, the names of his two cats) posted a photograph of the 45th vacant house. Clicking on the property card, which links to The Providence Plan's Web site, takes you to data that shows the house was purchased by Washington Mutual Bank in January 2008 for $171,000 — a third less than the $250,000 it sold for in March 2007.
Oakhurst grew up in Kansas City, Mo., and has lived in Los Angeles, Denver and, most recently, Portland, Ore. He moved to Providence a year ago and has been looking to buy a fixer-upper.
One recent morning, he walked by a house on Comstock Street, where he'd had his eye on a Victorian. He'd talked to a real estate agent, but concluded that the cost of repairs was so high that he couldn't afford it.
So for now, he and his family live in a rental apartment. But he clearly feels that he has an investment in the city.
"This is a public sidewalk," he said, stepping over scattered debris. "Can't we at least get the public works out here to clean up the garbage?"
posted by u2r2h at 10:38 PM