MADRID 11MARCH Aquittal
Note: 11-M is what is used in Spanish for the madrid bombings.
In Leganes the supposed terrorists alledgidly blew themselves up after the bombings when the police were at their door (one policeman died).
Italic text are my notes.
Orignial article:
http://www.elmundo.es/elmundo/2008/09/29/espana/1222659763.html
(below)
-----------------------------------
MADRID .- First they said that he and his brother Moutaz were the brains of 11-M. Later, he was sentenced to 12 years and, last July, the Supreme Court acquitted him. Today he speaks for the first time in the newspaper El Mundo and considers that he and his family have become "the other victims of the 11-M" and that the confidants know much more about the attacks.
On July 17th he received the good news in the prison in Alicante that the Supreme Court was acquitting him of all charges and that he was a free man. This is an excerpt from the interview.
* "If it were true that those who were on that floor had killed 192 people, how could they become friendly terrorists and wait until the entire building was cleared to commit suicide?".
* "Serhane ( 'El Tunecino') and those who died in Leganes had no technical capacity to carry out the attack. Moreover, Serhane did not know even how to join two wires."
* "We are convinced that the attack was planned before the election, and that it is closer to the criminals than the Muslims. The police informers and their controllers know much more than what they have said."
* "The police wanted me to say that Zougam and Serhane were friends. I told them again and again that I had never seen them together. Then a policeman approached me and said:" False testimony is not a crime ...'".
* "No Justice has been done. If the ones in Leganes had not died, none of us would have been sitting on the bench. They needed some authors or perpetrators in order to present them in front of the Spanish people, and they choosed us."
* " 'El Pais' released a police report saying that without the 'Almallah' the attack would not have been committed. It has been demonstrated to be false. That at the end my brother had no connection either with or Abu Qutada nor 'Abu Leche' . (note, abu leche is joking (leche means milk, also kind of curseword).
* "My family and I are the other face of the victims of terrorism. I lost my job, my reputation, and stil some neighbors look at me with bad side. Who will reward me for my losses?".
* "The president of the Association of Muslims told us we had to integrate into society. I joined the PSOE without any endorsement. I have not received any note of expulsion nor have they asked me for forgiveness when I have been acquitted." (note: PSOE is the current party in goverment in the present).

The 11 March 2004 Madrid train bombings (also known as 11/3 and in Spanish as 11-M) consisted of a series of coordinated bombings against the Cercanas (commuter train) system of Madrid, Spain on the morning of 11 March 2004 (three days before Spain's general elections), killing 191 people and wounding 1,755

During the peak of Madrid rush hour on the morning of Thursday, 11 March 2004, ten explosions occurred aboard four commuter trains (cercanas). frequented by WORKING CLASS PEOPLE.
ss
All the affected trains were traveling on the same line and in the same direction between Alcal de Henares and the Atocha station in Madrid. It was later reported that thirteen improvised explosive devices (IEDs) had been placed on the trains. Bomb-disposal teams (TEDAX) arriving at the scenes of the explosions detonated two of the remaining three IEDs in controlled explosions, but the third was not found until later in the evening, having been stored inadvertently with luggage taken from one of the trains. The following time-line of events comes from the judicial investigation
All four trains had departed the Alcal de Henares station between 07:01 and 07:14. The explosions took place between 07:37 and 07:40 in the morning, as described below (all timings given are in local time UTC/GMT+1):
* Atocha Station (train number 21431) Three bombs exploded. Based on the video recording from the station security system, the first bomb exploded at 07:37, and two others exploded within 4 seconds of each other at 07:38.
* El Pozo del To Raimundo Station (train number 21435) At approximately 07:38, just as the train was starting to leave the station, two bombs exploded in different carriages.
* Santa Eugenia Station (train number 21713) One bomb exploded at approximately 07:38.
* Calle Tellez, (train number 17305), approximately 800 meters from Atocha Station Four bombs exploded in different carriages of the train at approximately 07:39.
The total number of victims was 191. There were victims from 17 countries: 142 Spanish, 16 Romanians, 6 Ecuadorian, 4 Poles, 4 Bulgarians, 3 Peruvians, 2 Dominicans, 2 Colombians, 2 Moroccans, 2 Ukranians, 2 Hondurans, 1 Senegalese, 1 Cuban, 1 Chilean, 1 Brazilian, 1 French, and 1 Filipino. The total number of victims was higher than in any other terrorist attack in Spain, far surpassing the 21 killed and 40 wounded from a 1987 bombing at a Hipercor chain supermarket in Barcelona. On that occasion, responsibility was claimed by the Basque armed militant group Euskadi Ta Askatasuna ("Basque Fatherland and Liberty"), or ETA. It was also the worst incident of this kind in Europe since the Lockerbie bombing in 1988
A device composed of 12 kilograms of Goma-2 ECO with a detonator and 136 meters of wire (connected to nothing) was found on the track of a high-speed train (AVE) on 2 April. The Spanish Judiciary chose not to investigate that incident and the perpetrators remain unknown. The device used in the AVE incident was unable to explode because it lacked an initiation system.
Shortly after the AVE incident, police identified an apartment in Legans, south of Madrid, as the base of operations for the individuals suspected of being the material authors of the Madrid and AVE attacks. The suspected militants, headed by Jamal Zougam, Serhane Abdelmaji "the Tunisian" and Jamal Ahmidan "the Chinese", were trapped inside the apartment by a police raid on the evening of Saturday 3 April. At 9:03 pm, when the police started to assault the premises, the militants committed suicide by setting off explosives, killing themselves and one of the police officers.
Investigators subsequently found that the explosives used in the Legans explosion were of the same type as those used in the 11 March attacks (though it had not been possible to identify a brand of dynamite from samples taken from the trains) and in the thwarted bombing of the AVE line.
Based on the assumption (WHAT? ASSUMPTION?) that the militants killed at Legans were, indeed, the individuals responsible for the train bombings, the ensuing investigation focused on how they obtained their estimated 200 kg of explosives. The investigation revealed that they had been bought from a retired miner who still had access to blasting equipment.
Five to eight suspects believed to be involved in the 11 March attacks managed to escape.
No evidence has been found of al-Qaeda involvement,
although an al-Qaeda claim was made the day of the attacks by the Abu Hafs al-Masri Brigades. (the hoax-group that claimed it did the the blackout of August 14, 2003 in the northeastern United States and Canada).
The August 2003 power failure in the US, which the group called Operation Quick Lightning in the Land of the Tyrant of This Generation has been shown to be caused by a large-scale technical failure rather than terrorist actions.
Some are skeptical if this group actually exists. The only hard evidence is through communiques, usually sent via the Internet, to the Al-Quds al-Arabi newspaper in the UK. Another previously unknown group calling itself the Lions of Al-Mufridun also has decided to claim credit for the Madrid attack, perhaps attempting to copy Abu Hafs al-Masri Brigades.
All that can be said with any certainty at this stage is that someone is attempting to associate these attacks with al-Qaida.

The provincial chief of TEDAX (the bomb disposal experts of the Spanish police) declared on 12 July 2004 that damage in the trains could not be caused by dynamite, but by some type of military explosive, like C3 or C4
On March 2007 TEDAX chief claimed that they knew that the unexploded explosive found in the Kangoo van was GOMA 2 ECO the very day of the bombings [79]. He also asserted that "it is impossible to know" the components of the explosives that went off in the trains, though on the other hand he asserted that it was dynamite. The Judge Javier Gmez Bermdez replied "I can not understand" to these assertions
Two bombsone in Atocha and another one in El Pozo stations, numbers 11 and 12were detonated accidentally by the TEDAX. According to the provincial chief of the TEDAX, deactivated rucksacks contained some other type of explosive. The 13th bomb, which was transferred to a police station, contained dynamite, although it did not explode because it was missing two wires connecting the explosives to the detonator. That bomb used a mobile phone (Mitsubishi Trium) as a timer, requiring a SIM card to activate the alarm and thereby detonate.
The analysis of the SIM card allowed the police to arrest an alleged perpetrator. On Saturday, 13 March, when three Moroccans and two Hindu Indians.
were arrested for the attacks, it was confirmed that the attacks came from an Islamic group.[87] Only one of the five persons (the Moroccan Jamal Zougam) detained that day was finally prosecuted
On 3 April 2004, in Legans, south Madrid, four Arab terrorists died in an apparent suicide explosion, killing one G.E.O. (Spanish special police assault unit) police officer and wounding eleven policemen. According to witnesses and media, between five and eight suspects escaped that day.
Security forces carried out a controlled explosion of a suspicious package found near the Atocha station and subsequently deactivated the two undetonated devices on the Tllez train. A third unexploded device was later brought from the station at El Pozo to a police station in Vallecas, and became a central piece of evidence for the investigation. It appears that the El Pozo bomb failed to detonate because a cell-phone alarm used to trigger the bomb was set 12 hours late.
Sectors of the People's Party (PP), now in opposition, as well as certain media outlets, such as El Mundo newspaper and the COPE radio station owned by the Catholic Church,[90] continue to support theories relating the attack to a vast conspiracy to remove the governing party from power. .. Conspiracy theories...
Some of the alleged perpetrators of the bombing were reportedly under surveillance by the Spanish police since 2001. (THE RIGHT WING SECRET SERVICE did an imitation job!)
http://en.wikipedia.org/wiki/11_March_2004_Madrid_attacks
ENTREVISTA EXCLUSIVA
El último absuelto por el Supremo descarta que el grupo de Leganés cometiera el 11-M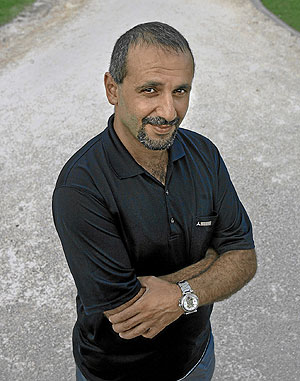 Mouhannah Almallah. (Foto: A. Heredia)
Actualizado lunes 29/09/2008 09:36

ANTONIO RUBIO
MADRID.- Primero dijeron que él y su hermano Moutaz fueron los cerebros del 11-M. Después, fue condenado a 12 años y, el pasado mes de julio, el Tribunal Supremo lo absolvió. Hoy habla por primera vez en el diario EL MUNDO y considera que él y su familia se han convertido en "las otras víctimas del 11-M" y que los confidentes saben mucho más de los atentados
El 17 de julio recibió la buena nueva en la cárcel de Alicante de que el Tribunal Supremo lo absolvía de todos los cargos y era un hombre libre. Este es un extracto de la entrevista concedida.
"Si fuera verdad que los que estaban en aquel piso habían matado a 192 personas, ¿cómo es posible que se convirtieran en terroristas amables y esperaran a que todo el edificio estuviera desalojado para suicidarse?".
"Serhane ('El Tunecino') y los que murieron en Leganés no tenían capacidad técnica para llevar a cabo el atentado. Además, Serhane no sabía ni como se unían dos cables".
"Estamos convencidos de que el atentado estaba planificado antes de las elecciones, que está más cerca de los delincuentes que de los musulmanes. Los confidentes y sus controladores policiales saben mucho más de lo que han dicho".
"La Policía quería que yo dijera que Serhane y Zougam eran amigos. Les dije una y otra vez que nunca les había visto juntos. Entonces un policía se acercó y me dijo: 'El falso testimonio no es delito...'".
"No se ha hecho Justicia. Si los de Leganés no hubieran muerto, ninguno de nosotros se habría sentado en el banquillo. Necesitaban a unos autores o culpables para presentarlos delante del pueblo español y nos eligieron a nosotros".
"'El País' publicó un informe policial que decía que sin los Almallah 'no se habría cometido' el atentado. Ha quedado demostrado que es falso. Que al final mi hermano no tenía relación ni con Abu Qutada ni con 'Abu Leche'".
"Mi familia y yo somos la otra cara de las víctimas del terrorismo. He perdido mi trabajo, mi reputación y todavía algunos vecinos me miran con mala cara. ¿Quién me recompensa de mis pérdidas?".
"El presidente de la Asociación de Musulmanes nos dijo que teníamos que integrarnos en la sociedad. Yo me afilié al PSOE sin ningún aval. No he recibido ninguna nota de expulsión ni tampoco me han pedido perdón cuando me han absuelto".
---
posted by u2r2h at 12:40 AM