Obama climate killer - why not support just electric cars?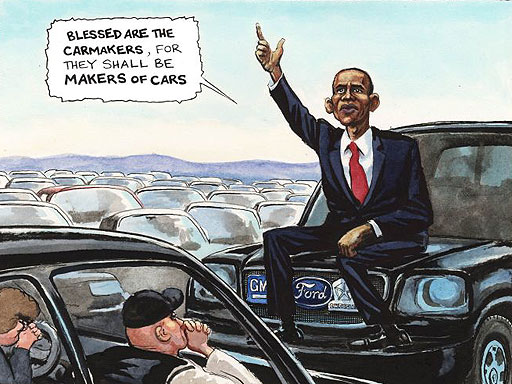 observer.co.uk cartoon Steven Bell "Blessed art the carmakers for they shall be makers of cars"
drive-in prayer for inefficient pollution monsters, dirty climate killers.
"SecDef race focuses on Danzig," Military Times claims. Maybe. But this story doesn't jive with what we're hearing at all. Quite the opposite, in fact. However, Gates redux isn't a done deal. A potential sticking point: What happens to some of Gates' key personal and political staff? Ironically, some of those employees were originally hired during the Rumsfeld era. So a situation might emerge where Pentagon are in the catbird seat for the ramping up and the winding down of the Iraq war.


"Good news for people who don't like their airliners hijacked or their chemical plants blown up," writes Spencer Ackerman. "Rand Beers, longtime counterterrorism aide to presidents Bill Clinton and George W. Bush, is heading Barack Obama's transition team for the beleaguered Dept. of Homeland Security." Newsweek mentions NYPD chief Ray Kelly as a possible head of Homeland Security. The mag's Powering Up blog also notes that former Senate Intelligence Committee chairman Bob Graham and former 9/11 Commission member Tim Roemer have expressed interest" in the Director of National Intelligence job.


"As a transition team for the Obama administration begins work on a Justice Department overhaul, the key question is where to begin," the Washington Post sighs.


UPDATE: "Barring unforeseen Washington politicking at the last minute," ex-National Counterterrorism Center chief John Brennan "is being announced later today as President-elect Obama's choice to replace Mike Hayden as Director of the Central Intelligence Agency." That's according to former intel bigwig Lewis Shepherd, who says he learned about the pick in "an email from a reporter." So take with the appropriate helping of salt. You know how unreliable those reporters are.


UPDATE 2: Obama resigns from the Senate, effective Sunday.

Obama may have won the election. But is Hillary winning the transition? Multiple sources say that sharp-elbowed Hillary Clintonites are shoving Obamanauts out of key positions in the transition effort. Some Obama-philes are waiting out the changeover period, instead.


The anti-war crowd wants Robert Gates out of the Pentagon. But we're hearing that his prospects are rising by the day.


The Obama camp is denying reports that former Secretary of State Warren Christopher and ex-Senator Sam Nunn are now on the transition team.


Hayden and McConnell expect to get sacked. Good!


Some unlikely sources tell team Obama who to pick for their national security and foreign policy braintrusts.

UPDATE: The Obama transition team has unveiled the co-chairs for "Agency Review Teams," which are supposed to smooth the changeover in the various federal departments. At State, those chiefs will be Tom Donilon -- the Department's Chief of Staff during the Clinton administration -- and Madeline Albright disciple Wendy Sherman. At the Pentagon, they'll be Center for a New American Security co-founder Michèle A. Flournoy, who served in the Clinton years as the principal deputy assistant secretary of defense for strategy, and former Deputy Secretary of Defense John P. White. Like we said before, a lot of Clintonistas.

Obama confidant Sarah Sewall will help manage the various teams, as a member of the Agency Review Working Group, responsible for the national security agencies. Sewall served as the first U.S. Deputy Assistant Secretary of Defense for Peacekeeping and Humanitarian Assistance, and helped write the military's counterinsurgecy field manual.
Iraq's insurgents are down but not out. As security improves in many parts of the country, embattled extremists have fled to Mosul, Iraq's third-largest city, straddled by mountains near the Syrian border. Two G.I.s were killed there just today, and six more were wounded. What was once a vibrant and ethnically diverse city is now "like Baghdad about 18 months ago," according to one U.S. soldier.

pilgrim freedom wildernes america flaw god bless soul liberty law
hypocrit PR since 1776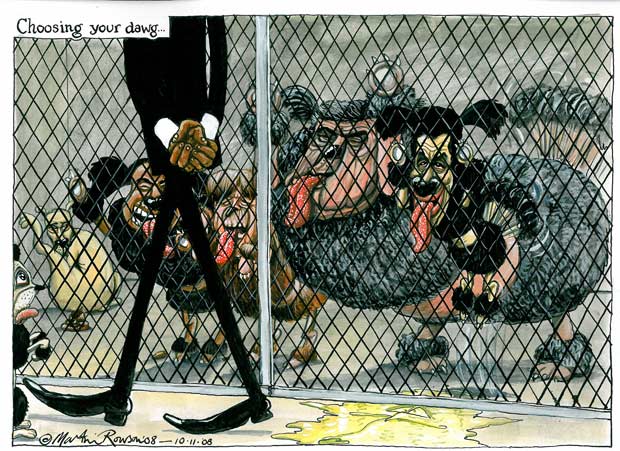 Choosing your dawg... Obama eyes foreign leaders who are eager to crawl up USA's behind.
OBAMA HELPS CLIMATE KILLERS?
Flying is max 2% of greenhouse gas emissions. Cars are 40%, Shipping is 6%. Airplanes CAN BE flown on hydrogen fuel. While hydrogen is unsafe for cars (electric passenger cars, natural gas trucks, T Boone Pickens Bone) the NATURE of airplane is safety, so NO PROBLEM!!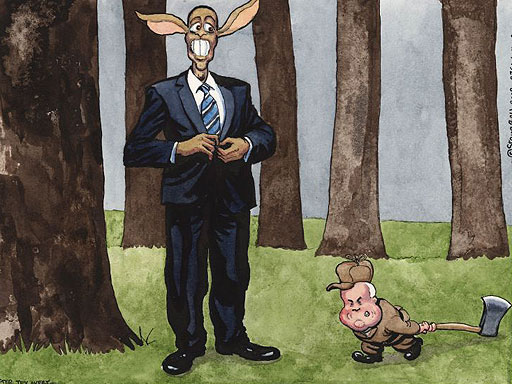 Obama vs McCain - (What's up Doc? Bugs Bunny)
Carbon dioxide emissions from shipping are double those of aviation and increasing at an alarming rate which will have a serious impact on global warming, according to research by the industry and European academics.

Separate studies suggest that maritime carbon dioxide emissions are not only higher than previously thought, but could rise by as much as 75% in the next 15 to 20 years if world trade continues to grow and no action is taken. The figures from the oil giant BP, which owns 50 tankers, and researchers at the Institute for Physics and Atmosphere in Wessling, Germany reveal that annual emissions from shipping range between 600 and 800m tonnes of carbon dioxide, or up to 5% of the global total. This is nearly double Britain's total emissions and more than all African countries combined.

Carbon dioxide emissions from ships do not come under the Kyoto agreement or any proposed European legislation and few studies have been made of them, even though they are set to increase.



General Motors, teetering on the brink of insolvency, has taken the extraordinary step of calling on employees and dealers to personally urge lawmakers to approve another loan package that might keep the beleaguered automaker from going under.
In an e-mail obtained by Wired.com, Troy Clarke, president of GM North America, urged 29,000 employees to contact their representatives and senators and tell them to support the automaker and the domestic auto industry, saying 3 million jobs are at stake. "Your elected officials must hear from all of us now on why this support is critical to our continuing the progress we began prior to the global financial crisis," he wrote.
Mark LaNeve, the automakers head of U.S. sales, made a similar plea in a letter sent to dealers nationwide, according to Reuters, which obtained a copy of the letter. Reuters also reported that GM repeated the plea during a company-wide broadcast Wednesday.
Although all of the Big Three have been hit hard by the economic meltdown -- auto sales hit their lowest point in 25 years last month -- GM has been beaten bloody. The General's sales tumbled 45 percent in October, it lost $2.5 billion in the third quarter, its stock hit a 65-year low today and the company is burning through cash so fast it could run out of money early next year. Things are so bad in Detroit that the Center for Automotive Research says (.pdf) one or two of the Big Three could go down for good, taking millions of jobs and tens of billions of dollars out of the economy, and some analysts say a federal bailout is the only thing that will save GM.
Congress has already approved $25 billion in loans for the auto industry. GM says it isn't enough and told employees to beg for more.
Piaggio Unveils a 141-MPG Plug-In Hybrid Scooter
By Chuck Squatriglia
November 10, 2008 | 6:56:42 PM
Italian scooter-maker Piaggio has unveiled a plug-in hybrid three-wheeler it says will get up to 141 mpg and could be on the road as early as next year.
The gas-electric version of Piaggio's funky but fun MP3 scooter uses a parallel hybrid system much like that in the Toyota Prius but advances the technology by adding an electrical cord. Although Toyota, General Motors and several other automakers are developing cars that can be charged from a wall socket, Piaggio's timeline, if met, would make it the first in the world to mass-produce a plug-in hybrid.
The MP3 Hybrid that Piaggio rolled out at the big international motorcycle expo in Milan, Italy, combines a 125-cc gasoline engine with an electric motor in an easy-to-ride three-wheeler that reportedly could do zero to 60 in around 5 seconds.

ince about 1750
human
activity has increased the concentration of carbon dioxide and of some other greenhouse gases.
[

18

]
Natural sources of carbon dioxide are more than 20 times greater than sources due to human activity,
[

19

]
but over periods longer than a few years natural sources are closely balanced by natural sinks such as weathering of continental rocks and photosynthesis of carbon compounds by plants and marine plankton. As a result of this balance, the atmospheric concentration of carbon dioxide remained between 260 and 280 parts per million for the 10,000 years between the end of the last glacial maximum and the start of the industrial era.
[

20

]
Some of the main sources of greenhouse gases due to human activity include:
burning of fossil fuels and deforestation leading to higher carbon dioxide concentrations. Land use change (mainly deforestation in the tropics) account for up to one third of total anthropogenic CO2 emissions.

[

20

]

livestock enteric fermentation and manure management,

[

21

]

paddy rice farming, land use and wetland changes, pipeline losses, and covered vented landfill emissions leading to higher methane atmospheric concentrations. Many of the newer style fully vented septic systems that enhance and target the fermentation process also are sources of atmospheric methane.
use of chlorofluorocarbons (CFCs) in refrigeration systems, and use of CFCs and halons in fire suppression systems and manufacturing processes.
agricultural activities, including the use of fertilizers, that lead to higher nitrous oxide concentrations.
The seven sources of CO2 from fossil fuel combustion are (with percentage contributions for 2000–2004):[22]
Solid fuels (e.g. coal): 35%
Liquid fuels (e.g. gasoline): 36%
Gaseous fuels (e.g. natural gas): 20%
Flaring gas industrially and at wells: <1%
Cement production: 3%
Non-fuel hydrocarbons: <1%
The "international bunkers" of shipping and air transport not included in national inventories: 4%
The U.S. EPA ranks the major greenhouse gas contributing end-user sectors in the following order: industrial, transportation, residential, commercial and agricultural[23]. Major sources of an individual's GHG include home heating and cooling, electricity consumption, and transportation. Corresponding conservation measures are improving home building insulation, compact fluorescent lamps and choosing energy-efficient vehicles.
Carbon dioxide, methane, nitrous oxide and three groups of fluorinated gases (sulfur hexafluoride, HFCs, and PFCs) are the major greenhouse gases and the subject of the Kyoto Protocol, which came into force in 2005.[24]
Although CFCs are greenhouse gases, they are regulated by the Montreal Protocol, which was motivated by CFCs' contribution to ozone depletion rather than by their contribution to global warming. Note that ozone depletion has only a minor role in greenhouse warming though the two processes often are confused in the media.
posted by u2r2h at 2:20 PM