«My name is Rachel Corrie» THEATRE PLAY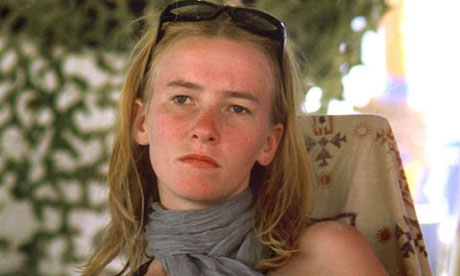 Rache Corrie
1990, aged 11
I want to be a lawyer, a dancer, an actress, a mother, a wife, a children's author, a distance runner, a poet, a pianist, a pet store owner, an astronaut, an environmental and humanitarian activist, a psychiatrist, a ballet teacher, and the first woman president.
1993
When I am an old woman, I will stop trying to look beautiful. I will quit wearing make-up and buying uncomfortable clothes because they look good. Maybe I will take up nudism. I will dance and play basketball and replenish my stock of Crayolas. I will write stories and they will be good, because by that time I will have real stories to tell, and I won't be just a sack of words.
When I am an old woman I will leave my clothes on the floor (if I wear any) and make someone else do the laundry. I will put plants everywhere and plant flowers in my yard. I will take up karate and learn to flamenco-dance.
I will never, ever, ever cook. I will race my grandchildren and beat them and I will actually run when we play baseball.
I will get a cow and put it in my back yard and I will get a motorcycle and some leather pants.
1996-1997
I started writing the other day in McDonald's, but the idea of being this weird beatnik chick composing prose between French fries didn't appeal to me so I stopped. I've decided that I'm going to spend the rest of my life travelling the US as a prospective student at small liberal arts colleges. Either that or, like Courtney Love, I'm going to write some silly songs about how much it sucks to go to high school in Olympia, dye my hair the colour of a skinned chicken, show my crotch a lot, and hopefully make big money.
I decided that I only like new people. New people are better than old people. New people can't reject you. And if they do it's their fault for not giving you a chance. New people are curious about who you are, and they don't stop being curious until they turn into old people. You can be honest with new people because you have nothing invested. That's why I'm never going to get married or have children or stay in one place for more than five years.
1999-2000
Had a dream about falling, falling to my death off of something dusty and smooth and crumbling like the cliffs in Utah, but I kept holding on, and when each new foothold or handle of rock broke, I reached out as I fell and grabbed a new one. I didn't have time to think about anything - just react as if I was playing an adrenaline-filled video game. And I heard I can't die. I can't die again and again in my head.
And I felt guilty.
Seems somehow positive compared to the dreams I used to have of tumbling, thinking, This is it, I'm going to die.
1997-2002
Morning Sweet Morning.
On the bus after graveyard shift, I have my snacks from last night in a paper bag. I can feel how pale I am. I make eye contact with a cute boy in the back who looks back balefully.
I become enraptured. Everyone on the bus is chatty today. Two women with sculpted hair and lipstick talk across the aisle to each other about their plans for getting healthy: 'And I'm going to walk more, to work on the weight problem.'
'And diet. Diet is really important.'
I begin to grin as we pass the auto-glass shop. I can see what the guy across from me is reading and try to guess if he is an old man or an old woman. Behind the ladies, a black man with longish hair tells the woman next to him, 'People here don't know what poor is. They're making $70,000 a year and they think they're poor.'
'Because money makes you spend more money. You get stuff and then you have to take care of your stuff,' the woman agrees.
She's young. Maybe my age. In the back of the bus someone is talking about some band and they're trading headphones around.
All these people are awake and chatty and I'm tired from my graveyard shift. I really do love them. I love us, riding the bus together. I know it's a privilege to love riding the bus after having a car, but you know - I don't really care. Fuck that car. Fuck all of that. I love us, riding the bus together. I love the transit center.
Fall 2002
We are all born and someday we'll all die. Most likely to some degree alone. Our aloneness in this world is, maybe not any more, a thing to mourn. Maybe it has to do with freedom.
What if our aloneness isn't a tragedy? Tragic passing of love affairs and causes and communities and peer groups. What if our aloneness is what allows us to speak the truth without being afraid? What if our aloneness is what allows us to adventure - to experience the world as a dynamic presence - as a changeable, interactive thing?
Winter 2002
What you might not realise is that for me, this is the end of life as we know it. Life has always been based here, in Olympia. There has never been a me that did not live here. I have never had a home that was not here.
What does this mean about leaving? And what does it mean about going to a place where there are people who have never seen their homes?
25 January 2003
Very little problem at the airport. My tight jeans and cropped bunny-hair sweater seem to have made all the difference - and of course the use of my Israeli friend's address. The only question was, 'Where did you meet her?' The woman behind the glass appeared not to notice my shaking hands. Took a sherut into Jerusalem. Noticed that the Holy Land is full of rocks and it seems like driving, you could fall off these hills. Just before we leave the airport, I read in the Let's Go Israel book that more Israelis have been killed in car accidents than in all of Israel's wars combined. I am still trying to decide what to make of this tidbit of information a day later.
27 January 2003
Travel to Rafah. Pass soldiers at bus stations - bombed market in Gaza City. Jehan greets cab. Children grab my ass, throw garbage at my head, scream 'What's your name?' Sleep in tent. Gunshot through tent. Start smoking.
29 January 2003
I don't have time to write, but we need more people here. This is a jail that the jailkeepers decided was too big, so now they are squeezing it smaller. The people here live within smell of the ocean but they can't go see it any more.
'What is there beautiful? We could go see the ocean. One thing beautiful. Now I cannot see the ocean. What is for the children that is beautiful?'
An eight-year-old named Ali died the day before I came.
'He just wanted to look at the tank - see the tank - and they explode his head.'
The surreal thing is that we are safe. White-skinned people stand up in front of the tanks and they open their weird tank lids and wave at us. Children play behind us and we yell, 'La! La!' when they try to wander out into the rubble to play with us - because somehow even though you are born in a cage and you have never lived without shooting all night, you are still able to play.
I couldn't even believe that a place like this existed. But even more - can you believe there are children here? Forget the fear. They tell me that at night. Forget the fear. I am ashamed that I am scared for my own body and dying anonymously inside a house in one of the most populous places on earth, where children die as martyrs of the occupation, which we pay for quietly without ever knowing their names. We need more people.





Bulldozer Driver

No charges were filed against this young IDF driver.
28 February 2003
Thanks, Mom, for the response to my email... [I've just spent] ten hours with a family on the front line in Hi Salaam - who fixed me dinner - and have cable TV. The two front rooms of their house are unusable because gunshots have been fired through the walls, so the whole family - three kids and two parents - sleep in the parents' bedroom. I sleep on the floor next to the youngest daughter, Iman, and we all share blankets. I helped the son with his English homework a little, and we all watched Pet Sematary, which is a horrifying movie. They all thought it was pretty funny how much trouble I had watching it. Friday is the holiday, and when I woke up they were watching Gummy Bears dubbed into Arabic. So I ate breakfast with them and sat there for a while and just enjoyed being in this big puddle of blankets with this family watching what for me seemed like Saturday morning cartoons. Then I walked some way to Brazil, which is where Nidal and Mansur and Grandmother and Rafat and all the rest of the big family that has really wholeheartedly adopted me, live. The other day, by the way, Grandmother gave me a pantomimed lecture in Arabic that involved a lot of blowing and pointing to her black shawl. I got Nidal to tell her that my mother would appreciate knowing someone here was giving me a lecture about smoking turning my lungs black. Nidal's English gets better every day. He's the one who calls me 'my sister' after we did human-shield work with water workers in his neighbourhood. He started teaching Grandmother how to say, 'Hello. How are you?' in English.
You can always hear the tanks and bulldozers passing by, but all of these people are genuinely cheerful with each other, and with me. When I am with Palestinian friends I tend to be somewhat less horrified than when I am trying to act in a role of human rights observer, documenter, or direct-action resister. They are a good example of how to be in it for the long haul. I know that the situation gets to them (and may ultimately get them) on all kinds of levels, but I am nevertheless amazed at their strength in being able to defend such a large degree of their humanity - laughter, generosity, family time - against the incredible horror occurring in their lives and against the constant presence of death. I felt much better after this morning. I spent a lot of time writing about the disappointment of discovering, somewhat first-hand, the degree of evil of which we are still capable. I should at least mention that I am also discovering a degree of strength and the basic ability for humans to remain human in the direst of circumstances - which I also haven't seen before. I think the word is dignity. I wish you could meet these people. Maybe, hopefully, someday you will.
12 March 2003, Rachel's final email home. She was killed four days later
Hi Papa,
Thank you for your email. I feel like sometimes I spend all my time propagandising Mom, and assuming she'll pass stuff on to you, so you get neglected. Don't worry about me too much, right now I am most concerned that we are not being effective. I still don't feel particularly at risk. Rafah has seemed calmer lately, maybe because the military is preoccupied with incursions in the north. Still shooting and house demolitions, one death this week that I know of, but not any larger incursions. I can't say how this will change if and when war with Iraq comes.
Thanks also for stepping up your anti-war work. I know it is not easy to do, and probably much more difficult where you are than where I am... I am trying to figure out what I'm going to do when I leave here, and when I'm going to leave. Right now I think I could stay until June, financially. I really don't want to move back to Olympia, but do need to go back there to clean my stuff out of the garage and talk about my experiences here. On the other hand, now that I've crossed the ocean I'm feeling a strong desire to try to stay across the ocean for some time. Considering trying to get English teaching jobs. Would like to really buckle down and learn Arabic. Also got an invitation to visit Sweden on my way back which I think I could do very cheaply.
I really don't want to live with a lot of guilt about this place, being able to come and go so easily, and not going back. I think it is valuable to make commitments to places, so I would like to be able to plan on coming back here within a year or so. Of all of these possibilities, I think it's most likely that I will at least go to Sweden for a few weeks on my way back. I can change tickets and get a plane from Paris to Sweden and back for a total of 150 bucks or so. I know I should try to link up with the family in France, but I think that I'm not going to do that. I would just be angry the whole time and not much fun to be around. It seems like a transition into too much opulence right now. I would feel a lot of class guilt the whole time.





Rachel Corrie's Parents

Cindy and Craig Corrie sued Israel, and the Caterpillar private company. They also said they have yet to receive all of the material from the IDF investigation.



Let me know if you have any ideas about what I should do with the rest of my life. I love you very much. If you want, you can write to me as if I was on vacation at a camp on the big island of Hawaii learning to weave. One thing I do to make things easier here is to utterly retreat into fantasies that I am in a Hollywood movie or a sitcom starring Michael J Fox. So feel free to make something up and I'll be happy to play along. Much love, Poppy.
· Let Me Stand Alone - The Journals of Rachel Corrie is published by Granta, at £12.99
Never forget the sacrifice of Rachel Corrie



killdozer caterpilar US special made bulldozer
Corrie was a member of the International Solidarity Movement. Joseph Smith,21, of Kansas City Missouri, who was with Corrie at the site, said the driver of the bulldozer, an IDF soldier, could clearly see Corrie as she sat in front of the machine.
Contrary to Smith's report, IDF Capt. Jacob Dallal of the IDF Spoksewoman's Office said Corrie's death was an accident. The US State Department had no immediate comment.
Rachel Corrie, was murdered on Sunday March 16, when she was purposely run over by an Israeli-driven, US-made (Caterpillar D9) bulldozer, while trying to prevent a Palestinian civilian home from being demolished by the Israeli military in the Rafah area of the Gaza Strip.
Rachel was in Rafah volunteering for the International Solidarity Movement (ISM), a Palestinian-led movement of both Palestinians and internationals working together for an end to the Israeli occupation of Palestinian territory. Rachel and the ISM have chosen nonviolent, direct-action methods and principles to resist the daily brutality of Israel's 36-year-old military occupation and its ongoing and illegal land confiscation and settlement of the West Bank and Gaza Strip."
"Rachel Corrie was crushed to death by a Israeli bulldozer as she tried to prevent the Israeli army destroying homes in the Gaza Strip."
Amnesty International USA (AIUSA) today condemned the killing of Rachel Corrie and called for an independent investigation of her death. The organization also renewed a call for a suspension of US transfers to Israel of military equipment, including bulldozers, that have been used to commit human rights abuses." Amnesty International has consistently condemned violations by all parties to the conflict and called on these parties to take all possible measures to bring to an end the killing and wounding of civilians.

As Rachel Corrie was an American citizen, the US government has a particular responsibility to ensure a thorough, proper and impartial investigation," said Christine Bustany, AIUSA's Advocacy Director for the Middle East. "US-made bulldozers have been 'weaponized' and their transfer to Israel must be suspended."

Ms. Corrie was a member of a group called International Solidarity Movement. Reports indicate that she was trying to stop the demolition of a Palestinian building in the Rafah refugee camp located in the Gaza Strip, when an Israel army bulldozer ran her over, crushing her to death.

In the past two years, the Israeli army has demolished more than 3,000 Palestinian homes in the Occupied Territories, as well as large areas of agricultural land, public and private properties, and water and electricity infrastructure in urban and rural areas. Bulldozers used for demolitions have killed Palestinian civilians, but to date no thorough investigation has taken place. Amnesty International stresses that a thorough, professional, independent and impartial investigation into these deaths is urgently needed.

As the main supplier of weapons to Israel, the United States must take measures to guarantee that weapons it supplies are not used in a manner that violates international and US law. Amnesty International and other international, Israeli, and Palestinian human rights groups have reported on Israel's use of disproportionate, excessive, and lethal force without regard to civilian lives, indiscriminate attacks on civilians, extrajudicial executions and unwarranted destruction of civilian property that have resulted in deaths of innocent bystanders. The Department of State's Country Reports on Human Rights Practices for 2002 confirmed many of these violations and cites helicopters, fighter aircraft, anti-tank missiles, and flechettes as weapons used to commit human rights abuses. Amnesty International urges that such transfers immediately be suspended until Israel is found to be in compliance with the terms of US laws and bilateral defense agreements governing transfers or offers effective and enforceable guarantees that US weapons will not be misused in this fashion.






Rachel Aliene Corrie (April 10, 1979 – March 16, 2003) was an American member of the International Solidarity Movement (ISM) who was killed by a bulldozer operated by the Israel Defense Forces (IDF) while attempting to prevent IDF forces from demolishing the home of local Palestinian pharmacist Samir Nasrallah. According to the New York Times, Corrie and others were acting as "human shields." A student at The Evergreen State College, she had taken a year off and traveled to the Gaza Strip during the Second Intifada. The details of the events surrounding Corrie's death are disputed.

Rachel Aliene Corrie was born on April 10, 1979 and raised in Olympia, Washington, United States, Rachel Corrie was the daughter of Craig Corrie, an insurance executive, and Cindy Corrie, an amateur flautist who describes their family as "average Americans — politically liberal, economically conservative, middle class". Corrie was the youngest of their three children.

After graduating from Capital High School, Corrie went on to attend The Evergreen State College (TESC), where she took a number of arts courses. She took one year off from her studies to work as a volunteer in the Washington State Conservation Corps; other volunteer work included making weekly visits to patients with mental disorders for three years. In her senior year, she proposed an independent-study program in which she would travel to Gaza, join protesters from the International Solidarity Movement (ISM), and initiate a "sister city" project between Olympia and Rafah. Before leaving, she also organized a pen-pal program between kids in Olympia and Rafah.

Friends described her as "attractive in a plain-spoken way, the opposite of flashy, not working to call attention to herself. She was reserved in large crowds but intimate one-on-one". Colin Reese, Corrie's roommate, said she had wanted to become a writer and artist. Reese also said she was "not the most punctual or tidy person in the world," but that when it came to peace work, she "would work harder and longer than anybody else".

After flying to Israel on January 22, 2003, Corrie underwent a two-day training course at ISM West Bank headquarters, before heading to Rafah to participate in ISM demonstrations. During her training, Corrie studied tactics of direct action. Basic rules about avoiding harm were given, which a featured article on the Corrie incident summarized as: "Wear fluorescent jackets. Don't run. Don't frighten the army. Try to communicate by megaphone. Make your presence known." On January 27, 2003, Corrie and William Hewitt (also from Olympia), traveled to the Erez checkpoint and entered the Gaza Strip.

While in Rafah, Corrie acted as a human shield in an attempt to impede house demolitions carried out by the IDF using armored bulldozers. On Corrie's first night there, she and two other ISM members set up camp inside Block J, often a target for Israeli gunfire. Israeli troops fired bullets over their tent and at the ground a few feet away. Deciding that their presence was provoking the Israeli soldiers, not deterring them, Corrie and her colleagues hurriedly dismantled their tent and left the area.

Qishta, a Palestinian who worked as an interpreter, noted that: "Late January and February was a very crazy time. There were house demolitions taking place all over the border strip and the activists had no time to do anything else." Qishta also stated of the ISM activists: "They were not only brave; they were crazy." The confrontations were not without harm to the activists; a British participant was wounded by shrapnel.

Palestinian militants expressed concern that the "internationals" staying in tents between the Israeli watchtowers and the residential neighborhoods would get caught in crossfire, while other residents were concerned that the young activists might be spies. Corrie worked hard to overcome this suspicion, learning a few words of Arabic, participating in a mock trial denouncing the "crimes of the Bush Administration." With time, the ISM members were taken into Palestinian family homes, and provided with meals and beds. Even so, in the days before Corrie's death, a letter gained wide circulation in Rafah, casting suspicion again on the ISM members. "Who are they? Why are they here? Who asked them to come here?" it asked. The letter caused the activists to be preoccupied and frustrated, and on the morning of Corrie's death they planned ways to counteract its effects. According to one activist, "We all had a feeling that our role was too passive. We talked about how to engage the Israeli military."

On March 14, 2003, during an interview with the Middle East Broadcasting network, Corrie said:

"I feel like I'm witnessing the systematic destruction of a people's ability to survive ... Sometimes I sit down to dinner with people and I realize there is a massive military machine surrounding us, trying to kill the people I'm having dinner with."

Water well human shielding efforts

According to a January 2003 article by Gordon Murray, in the last month of her life Rachel "spent a lot of time at the Canada Well helping protect Rafah municipal workers," who were trying to repair damages to the well incurred by Israeli bulldozers. Built in 1999 with CIDA funding, Canada Well, togther with El Iskan Well, had supplied more than 50% of Rafah's water before being damaged, and the city had been under "strict rationing (only a few hours of running water on alternate days)" since. Murray writes that ISM activists were maintaining a presence there since, "Israeli snipers and tanks routinely shot at civilian workers trying to repair the wells." In one of her reports, Corrie relates that despite having received permission from Israeli District Command Office, and carrying "banners and megaphones the activists and workers were fired upon several times over a period of about one hour. One of the bullets came within two metres of three internationals and a municipal water worker close enough to spray bits of debris in their faces as it landed at their feet." According to Murray, the Canadian government refused to "officially protest or denounce the Israeli army actions", yet "quietly agreed to help fund the estimated $450,000 repair costs".

US flag burning at protest for 2003 invasion of Iraq controversy

While in Gaza, she took part in a demonstration as part of the February 15, 2003 anti-war protest against the invasion of Iraq, where she was photographed burning a mock US flag. Robert Spencer criticized Corrie for having burned the flag in front of children, writing that she was "fostering... hatred" of the United States.

After her death, International Solidarity Movement ("ISM") and Corrie's parents wrote about circulated picture of the incident:

"Trying to use this picture to somehow indicate that Rachel deserved to be run over by a bulldozer is an appalling act of demonization that infers that forms of protest which include flag burning are capital offences. In the words of Rachel's parents: 'The act, while we may disagree with it, must be put into context. Rachel was partaking in a demonstration in Gaza opposing the War on Iraq. She was working with children who drew two pictures, one of the American flag, and one of the Israeli flag, for burning. Rachel said that she could not bring herself to burn the picture of the Israeli flag with the Star of David on it, but under such circumstances, in protest over a drive towards war and her government's foreign policy that was responsible for much of the devastation that she was witness to in Gaza, she felt it OK to burn the picture of her own flag. We have seen photographs of memorials held in Gaza after Rachel's death in which Palestinian children and adults honor our daughter by carrying a mock coffin draped with the American flag. We have been told that our flag has never been treated so respectfully in Gaza in recent years. We believe Rachel brought a different face of the United States to the Palestinian people, a face of compassion. It is this image of Rachel with the American flag that we hope will be remembered most.'"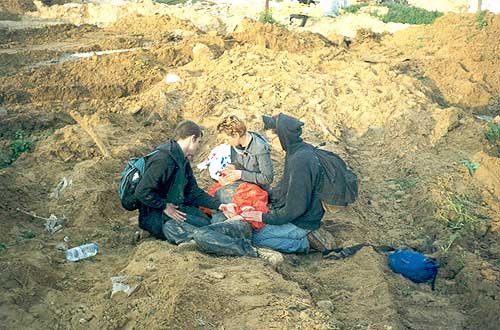 Corrie's e-mails from Gaza to her mother

Rachel Corrie sent a series of e-mails to her mother, while she was in Gaza, of which four later published by The Guardian on page 2 of comments and features section, in March 18, 2003, and in January 2008 they got published in a memorial book titled Let Me Stand Alone by W. W. Norton & Company along with her other collected writings. Yale Professor David Bromwich stated, Rachel left "letters of great interest" and she had studied methods of Mahatma Gandhi and Martin Luther King with care. Corrie wrote to her mother, "The vast majority of Palestinians right now, as far as I can tell, are engaged in Gandhian nonviolent resistance." Her letters later founded a base to My Name is Rachel Corrie theatre play, and some parts of the letters also used in The Skies are Weeping cantata.

Corrie's death and subsequent controversy

An armored Caterpillar D9R Bulldozer used by the IDF.

On March 16, 2003, an IDF operation in the land between the Rafah refugee camp and the border with Egypt was engaged in house demolition, which the IDF says is necessary to destroy guerrilla hideouts and smuggling tunnels. Corrie was part of a group of seven ISM activists (three British and four US) attempting to disrupt the actions of Israeli bulldozers. Corrie, who had positioned herself in the path of a Caterpillar D9R armored bulldozer, was fatally injured. She was transported to a Palestinian hospital. Accounts vary as to whether she died at the scene, in the ambulance on the way to the hospital, or at the hospital.

The events surrounding Corrie's death are disputed. ISM eyewitnesses assert that the Israeli soldier driving the bulldozer deliberately ran Corrie over twice while she was acting as a human shield to prevent the demolition of the home of local pharmacist Samir Nasrallah. The ISM said she was interposed between the bulldozer and a wall near Nasrallah's home, in which ISM activists had several times spent the night. The Israeli Government and the IDF denied that version of events and described Corrie's death as an accident. The official Israeli response stated that Corrie was killed by debris pushed over by the bulldozer, that the driver did not see her, and that the bulldozer was clearing brush and not engaged in a demolition when Corrie blocked its path. This was the conclusion reached in June 2003 by a military investigation by the Israel Defense Forces Judge Advocate's Office. "The driver at no point saw or heard Corrie," an army source told the Jerusalem Post. "She was standing behind debris which obstructed the view of the driver and the driver had a very limited field of vision due to the protective cage he was working in." Other reports say the Israeli government charged that the house being demolished contained a tunnel used for smuggling weapons from Egypt.

The major points of dispute are whether the bulldozer driver saw Corrie, and whether her injuries were caused by being crushed under the blade or by the mound of debris the bulldozer was pushing. An IDF spokesman has acknowledged that Israeli army regulations normally require that the drivers of the armored personnel carriers (APCs) that accompany bulldozers are responsible for directing the drivers towards their targets, because the Caterpillar D9 bulldozers have a restricted field of vision with several blind spots. However, the Israeli army commander of the Gaza Strip said in an interview broadcast on Israeli television that on the day of Corrie's death, soldiers had to stay in their armored vehicles and were not able to direct the bulldozer or arrest the protesters, because of the threat of Palestinian sniper fire. He also said that Israeli soldiers may have been handling other ISM activists instead of watching over the bulldozer. In a statement issued the day after Corrie's death, the ISM said that, "When the bulldozer refused to stop or turn aside she climbed up onto the mound of dirt and rubble being gathered in front of it... to look directly at the driver who kept on advancing."

The IDF produced a video about Corrie's death that includes footage taken from inside the cockpit of a D9. It makes a "credible case", Joshua Hammer wrote of this video in Mother Jones, that "the operators, peering out through narrow, double-glazed, bulletproof windows, their view obscured behind pistons and the giant scooper, might not have seen Corrie kneeling in front of them."

ISM and other eyewitness accounts

Joe Carr, an American ISM activist who used the assumed name of Joseph Smith during his time in Gaza, gave the following account in an affidavit recorded and published by the Palestinian Centre for Human Rights (PCHR):

Still wearing her fluorescent jacket, she knelt down at least 15 meters in front of the bulldozer, and began waving her arms and shouting, just as activists had successfully done dozens of times that day... When it got so close that it was moving the earth beneath her, she climbed onto the pile of rubble being pushed by the bulldozer... Her head and upper torso were above the bulldozer's blade, and the bulldozer driver and co-operator could clearly see her. Despite this, the driver continued forward, which caused her to fall back, out of view of the diver. He continued forward, and she tried to scoot back, but was quickly pulled underneath the bulldozer. We ran towards him, and waved our arms and shouted; one activist with the megaphone. But the bulldozer driver continued forward, until Rachel was all the way underneath the central section of the bulldozer.

On March 18, 2003, only two days after Corrie's death, Joe (Smith) Carr was interviewed by British Channel 4 and The Observer reporter Sandra Jordan for a documentary that was aired June 2003 on Channel 4 titled The Killing Zone.

"It was either a really gross mistake or a really brutal murder"

According to the Seattle Times, "Smith, who witnessed Sunday's incident, said it began when Corrie sat down in front of the bulldozer. He said the driver scooped her up with a pile of earth, dumped her on the ground and ran over her twice."

Smith also observed:

"We were horribly surprised. They had been careful not to hurt us. They'd always stopped before."

British ISM activist Tom Dale, who was standing yards away from Corrie, told journalist Joshua Hammer, Jerusalem bureau chief for Newsweek:

The bulldozer built up earth in front of it... She tried to climb on top of the earth, to avoid being overwhelmed. She climbed to the point where her shoulders were above the top lip of the blade. She was standing on this pile of earth. As the bulldozer continued, she lost her footing, and she turned and fell down this pile of earth. Then it seemed like she got her foot caught under the blade. She was helpless, pushed prostrate, and looked absolutely panicked, with her arms out, and the earth was piling itself over her. The bulldozer continued so that the place where she fell down was directly beneath the cockpit... The whole took place in about six or seven seconds.

An individual giving the name Richard, who stated that he witnessed Corrie's death, as recorded by the Israeli newspaper Haaretz:

There's no way he didn't see her, since she was practically looking into the cabin. At one stage, he turned around toward the building. The bulldozer kept moving, and she slipped and fell off the plow. But the bulldozer kept moving, the shovel above her. I guess it was about 10 or 15 meters that it dragged her and for some reason didn't stop. We shouted like crazy to the driver through loudspeakers that he should stop, but he just kept going and didn't lift the shovel. Then it stopped and backed up. We ran to Rachel. She was still breathing.

British ISM activist Richard Purssell gave the following account, in an affidavit made in a manner similar to Carr's:

As the bulldozer reached the place where Rachel was standing, she began as many of us did on the day to climb the pile of earth. She reached the top and at this point she must have been clearly visible to the driver, especially as she was still wearing the high visibility jacket . She turned and faced in my direction and began to come back down the pile. The bulldozer continued to move forward at . As her feet hit the ground I saw a panicked expression on her face... The pile of earth engulfed her and she was hidden from my view.

Some eyewitness accounts indicate that when Corrie slipped and fell, the driver may have been looking behind him.

The bulldozer driver, a Russian immigrant to Israel, was interviewed on Israeli TV and insisted he had no idea she was in front of him:

You can't hear, you can't see well. You can go over something and you'll never know. I scooped up some earth, I couldn't see anything. I pushed the earth, and I didn't see her at all. Maybe she was hiding in there.

Autopsy and investigation

Prime Minister of Israel Ariel Sharon, promised President Bush a "thorough, credible, and transparent investigation." Later, Capt. Jacob Dallal, a spokesman for the Israeli army, called Corrie's death a "regrettable accident" and said that she and the other ISM activists were "a group of protesters who were acting very irresponsibly, putting everyone in danger — the Palestinians, themselves and our forces — by intentionally placing themselves in a combat zone."

An autopsy was conducted on March 24 at the Israel's National Center of Forensic Medicine in Tel Aviv. The final report was not released publicly, but in their report on the matter Human Rights Watch asserts a copy was provided to them by Craig Corrie, with a translation supplied by the U.S. Department of State. In the report they quote Professor Yehuda Hiss, who performed the autopsy, as concluding that "her death was caused by pressure on the chest (mechanical asphyxiation) with fractures of the ribs and vertebrae of the dorsal spinal column and scapulas, and tear wounds in the right lung with hemorrhaging of the pleural cavities."

According to a correspondent for Gannett News Service, the IDF document, "The Death of Rachel Corrie" made no mention of the pathologist's conclusion, though, according to Corrie's parents, the entire document has not been released.

On June 26, 2003, the Jerusalem Post quoted an Israeli military spokesman as saying that Corrie had not been run over and that the driver had not seen her:

"The driver at no point saw or heard Corrie. She was standing behind debris which obstructed the view of the driver and the driver had a very limited field of vision due to the protective cage he was working in... The driver and his commanders were interrogated extensively over a long period of time with the use of polygraph tests and video evidence. They had no knowledge that she was standing in the path of the tractor. An autopsy of Corrie's body revealed that the cause of death was from falling debris and not from the tractor physically rolling over her. It was a tragic accident that never should have happened."

"The International Solidarity Movement, to which Corrie belonged, was directly responsible for illegal behavior and conduct in the area of Corrie's death and their actions directly led to this tragedy."

The Israeli army's report , claimed:

The army was searching for explosives in the border zone when Corrie was "struck as she stood behind a mound of earth that was created by an engineering vehicle operating in the area and she was hidden from the view of the vehicle's operator who continued with his work. Corrie was struck by dirt and a slab of concrete resulting in her death ... The finding of the operational investigations shows that Rachel Corrie was not run over by an engineering vehicle but rather was struck by a hard object, most probably a slab of concrete which was moved or slid down while the mound of earth which she was standing behind was moved," (The Guardian, April 14, 2003).

Howard Blume told that IDF claimed:

" was engaged in "routine terrain leveling and debris clearing," not building demolition. Quoting from the IDF report, Corrie died "as a result of injuries sustained when earth and debris accidentally fell on her ... Ms. Corrie was not run over by the bulldozer", he added, IDF also claimed she was possibly "in a blindspot for the bulldozer operators and "behind an earth mound," so they did not see that she was in harm's way."

In later IDF operations, the house was damaged (a hole was knocked in a wall) and was later destroyed. By that time, the Nasrallah family had moved into a different house. It was reported in 2006 that the house that Corrie was trying to protect was rebuilt with funds raised by The Rebuilding Alliance.

A spokesman for the IDF told the Guardian that, while it did not accept responsibility for Corrie's death, it intended to change its operational procedures to avoid similar incidents in the future. The level of command of similar operations would be raised, said the spokesman, and civilians in the area would be dispersed or arrested before operations began. Observers will be deployed and CCTV cameras will be installed on the bulldozers to compensate for blind spots, which may have contributed to Corrie's death.

The IDF gave copies of the report, entitled "The Death of Rachel Corrie," to members of the U.S. Congress in April 2003, and Corrie's family released the document to the media in June 2003, according to the Gannett News Service. In March 2004 the family said that the entire report had not been released, and that only they and two American staffers at the U.S. Embassy in Tel Aviv had been allowed to view it. The family said they were allowed to look at the report in the Consulate General of Israel to the Pacific Northwest in San Francisco. The ISM rejected the Israeli report, stating that it contradicted their members' eyewitness reports and that the investigation had been far from credible and transparent.

Reactions and subsequent events
A Palestinian memorial

Corrie's death sparked controversy and led to international media coverage, in part because she was an American, and in part because of the highly politicized nature of the conflict itself.

Political Reactions

U.S. Representative Brian Baird introduced House Concurrent Resolution 111 in the U.S. Congress on March 25, 2003, calling on the U.S. government to "undertake a full, fair, and expeditious investigation" into Corrie's death. The House of Representatives took no action on the resolution. The Corrie family joined Representative Baird in calling for a U.S. investigation. Baird, though reelected in 2004, 2006, and 2008, has not reintroduced the resolution in the Congress.

Yasser Arafat offered his condolences and gave the blessings of the Palestinian people to Corrie. Arafat promised to name a street in Gaza after Corrie; this however was not done.

In March 21, 2003, Green Party of the USA, called an investigation for "murder of American Peace Activist Rachel Corrie by Israeli Forces".

Human Rights Organisations' Reactions

Amnesty International USA called for an independent inquiry, with Christine Bustany, their advocacy director for the Middle East, saying that "U.S.-made bulldozers have been 'weaponized' and their transfer to Israel must be suspended."

In 2005, Human Rights Watch published a report titled Promoting Impunity: The Israeli Military's Failure to Investigate Wrongdoing, raising several issues related to the impartiality and professionalism with which the Military Police investigation was conducted. Among them were what Human Rights Watch described as the investigators' lack of preparation; "hostile," "inappropriate," "mostly accusatory" questions they asked witnesses; omitting to get witnesses to draw maps or identify locations on a map of how it occurred; and their asserted uninterest in reconciling soldiers' testimonies with those of other eyewitnesses. The report was not limited in scope to Corrie's death; it described a number of similar instances in which one-line summary findings were reported to the media after closed investigations in which neither non-military witnesses nor victims or their families were involved.

In the News
Rachel Corrie memorial vigil at Israeli Embassy in Washington, DC March 18, 2003

There were reports that because she was an American, her death attracted the kind of attention that the deaths of Palestinians fail to garner. The Observer wrote that:

"On the night of Corrie's death, nine Palestinians were killed in the Gaza Strip, among them a four-year-old girl and a man aged 90. A total of 220 people have died in Rafah since the beginning of the intifada. Palestinians know the death of one American receives more attention than the killing of hundreds of Muslims."

A Hamas activist told the newspaper:

" death serves me more than it served her. Going in front of the tanks was heroic. Her death will bring more attention than the other 2,000 martyrs."

Corrie's photograph has been carried during protests against Israel's actions in Gaza and the West Bank. On July 15, 2003, the Chicago Tribune reported that:

"To the people of Rafah, Rachel Corrie will always remain a very special martyr, their American martyr."


In 2006, Haaretz political columnist Bradley Burston, asserted Corrie's death was accidental, yet "incidental killing is no less tragic than intentional killing", he criticized both the pro-Palestinian and pro-Israeli sides for excessive rhetoric, noting that:

"Of all of the tragedies and casualties of the intifada, in which more than 4,000 people were killed over five years, the case of Rachel Corrie still stands apart, the subject of intense world interest and fierce debate. ... Part of it starts with us. "They had no business being there" is no excuse for what the Pentagon long ago christened collateral damage. We've learned much. But we're still not there. We should have saved Rachel Corrie's life that day, either by sending out a spotter or delaying the bulldozer's work. Right now, somewhere in the West Bank, there's an eight-year-old whose life could be saved next week, if we've managed to learn the lesson and are resourceful enough to know how to apply it."

Criticism of Corrie's actions

According to The Boston Globe, "Corrie... has been praised as a heroic martyr and denounced as a misguided, ill-informed naïf." In a review of Simone Bitton's documentary Rachel, Salon noted that Corrie was subjected to "shocking verbal abuse" on right-wing bulletin boards and Web sites, including "grotesque sexual fantasies and elaborate conspiracy theories".

Journalist and Middle East commentator Tom Gross has referred to "the cult of Rachel Corrie." In an article called "The Forgotten Rachels" republished on his website, Gross refers to six other women called Rachel, Jewish victims of the Arab-Israeli conflict whose deaths, he wrote, received little, if any, coverage outside Israel. Gross went on to argue that "Partly thanks to the efforts of Corrie and her fellow activists, the flow of explosives from Egypt into Gaza continued – and were later used to kill children in southern Israel." The article prompted a National Review editorial arguing that "Corrie's death was unfortunate, but more unfortunate is a Western media and cultural establishment that lionizes 'martyrs' for illiberal causes while ignoring the victims those causes create."

In March 2003, the University of Maryland, College Park's campus newspaper The Diamondback published an editorial cartoon by Daniel J. Friedman, depicting Rachel Corrie sitting in front of an approaching bulldozer, with two definitions of the word "stupidity" from the American Heritage Dictionary, along with an additional self-created third line "sitting in front of a bulldozer to protect a gang of terrorists," resulting in student sit-ins and protests of in Wednesday after the cartoon appeared. The group Palestine Media Watch published the email addresses and phone number of Diamondback editors, urging readers to contact the newspaper to secure an apology, and thousands of e-mails and hundreds of phone calls were received by the paper in protest. Describing the cartoon as "indecent and anti-American," over 60 student protesters staged a sit-in at the newspaper's offices (with 10 staying overnight), demanding that the paper apologize and "publish an article honoring Corrie's life". The newspaper refused to apologize, "though many staff members objected to the cartoon's viewpoint" while "the newspaper had received thousands of e-mails and hundreds of telephone calls protesting the cartoon", citing the First Amendment. While Friedman did not return the telephone call and e-mail by The Associated Press, editor-in-chief Jay Parsons commented, "The decision was about freedom of speech, and that made the decision easy."

Mike's Place suicide bombing and ISM controversy
Main article: Mike's Place suicide bombing

On April 30, 2003, a suicide bomber killed three and injured over 50 at Mike's Place, a bar next to the U.S. Embassy in Tel Aviv. On 25 April, five days before the attack, British Muslim Asif Muhammad Hanif, 22, from London and Omar Khan Sharif, 27, from Derby, had visited ISM office, and after chatting for 15 minutes with an ISM volunteer, the men joined a group of 20 people to lay flowers at the site of Corrie's death for 10 minutes. Hanif later died in the suicide attack, Sharif fled the scene after his bomb failed to detonate; his body was found 12 days later washed up on the beach. ISM said activists Hanif and Sharif appeared to be 'typical Brits.'

Activities of Corrie's parents
Craig and Cindy Corrie at an End the Occupation rally, 2007

Since their daughter's death, Corrie's parents, Cindy and Craig, have spent time trying to "promote peace and raise awareness about the plight of Palestinians," and continue what they believe to be her work. The Corries have worked to set up foundations, launch projects in memory of their daughter, and advance investigation into the incident, approaching the US Congress and the courts for redress.

Corries' parents have several times visited the region since their daughter's death, and have twice visited Gaza. Following their daughter's death, they visited Gaza and Israel, seeing the place where Rachel died, and meeting ISM members and Palestinians who she had known. They also visited Ramallah in the West Bank, where Arafat met them and presented them with a plaque in memory of their daughter. On March 28, 2008 they addressed a demonstration in Ramallah at which Craig Corrie said: "This village has become a symbol of nonviolent resistance. I call for solidarity with the people of Palestine in resisting the conditions imposed by the Israeli occupation to prevent the establishment of their state."

The Nasrallahs, the Palestinian family whose home Rachel believed she was preventing from destruction, joined the Corries on a cross-country tour in the United States in June 2005. The aim of the trip was to raise funds to rebuild the Nasrallah home, and other homes destroyed in Rafah with the cooperation of the Rebuilding Alliance. The 22-city, 7 state tour made stops in Iowa and California among other locations.

Lawsuits

Corrie's family and several Palestinians filed a lawsuit against Caterpillar Inc. alleging liability under various Federal statutes over the death of Corrie in connection with the bulldozers, alleging Caterpillar supplied them to the Israelis despite having notice they would be used to further "a policy plaintiffs contend violates international law." The case was dismissed by a Federal judge in November 2005 for lack of subject matter jurisdiction, citing, among other things, the political question doctrine. The judge found, alternatively, that the plaintiffs' claims failed on the merits.

The ruling was appealed to the United States Court of Appeals for the Ninth Circuit. On September 17, 2007, the Ninth Circuit affirmed the dismissal on political question grounds, and did not reach the merits of the suit. The Court found that as the bulldozers were paid for by the U.S. Government as part of its aid to Israel, that the Judicial Branch could not rule on the merits of the case without ruling on whether or not the government's financing of such bulldozers was appropriate, a matter it felt was not entrusted to the Judicial Branch.

Claims were previously filed against the Israel Defense Forces and the Israeli Defense Ministry.

Kidnapping attempt controversy

During a visit in January 2006, two Palestinians, one armed, entered the home of Samir Nasrallah, the Palestinian pharmacist whose former home Rachel Corrie had been trying to protect when she was killed. Corrie's parents were staying overnight there, and it was reported that the gunmen had tried to kidnap them, but had abandoned their plans when told who his guests were. According to Nasrallah, the gunmen were seeking Americans as bargaining chips to secure the release of Alaa al-Hams, a Palestinian militia leader arrested by Palestine intelligence on suspicion of ordering the abduction of British human-rights activist Kate Burton and her parents.

The ISM issued a statement asserting that the actual targets whose home the gunmen came to were three Americans staying nearby, and that the Corries helped talk the men out of their plan. By the ISM's account, "the Corries were never threatened with kidnapping, nor did gunmen burst into the house where the Corries were staying." The Jerusalem Post reported Craig Corrie as saying: "There was never a threat made against us and the gun was never pointed at anyone." According to the Post, Craig Corrie said that when he entered the room and saw the man with the gun, he feared it might be a kidnapping attempt, but that the situation was never described to him that way by his host. Corrie added that the media accounts over-dramatized the incident.

Memorial events
Vigil in Olympia, WA

Immediately after her death, posters and graffiti praising Corrie were posted in Rafah, with one graffiti tag reading, "Rachel was an American citizen with Palestinian blood." To most Palestinians, everyone killed by the Israeli army is considered a shaheed (martyr), and hundreds of local residents came to express their condolences. The day after Corrie died, about thirty American and European ISM activists with 300 Palestinians began protests during the public memorial service over the spot where she was fatally injured in Rafah, Jordan states that IDF sent a representative to the memorial as the service "got under way". However, Murray asserts that the same bulldozer that killed Corrie, identified by its army serial number 949623, suddenly appeared at the memorial. According to Jordan, "A bizarre game of cat-and-mouse began as the peace activists chased the tank around", with protesters covering the tank with posters of Corrie and throwing flowers on it. In response, it is alleged that "Israeli soldiers inside threatened, in return, to run them down", a tank sprayed the mourners with tear gas and later armoured personnel carriers fired guns along with percussion bombs. Murray further claimed IDF fired "concussion grenades, tear gas, warning shots" over the protesters while they were choking on diesel smoke. The escalating danger caused the memorial service to be halted.

In 2008, Corrie's parents commemorated the fifth anniversary of her death at an event held in the West Bank town of Nablus. About 150 Palestinians and foreigners joined them to dedicate a memorial to Corrie on one of the city's streets.

Artistic tributes
My Name Is Rachel Corrie at Playhouse Theatre, London, 2006.
Main articles: The Skies are Weeping and My Name is Rachel Corrie

More than 30 songs were written about and dedicated to Rachel Corrie since 2003 by various musicians including Patti Smith, Alice Shields, Mike Stout, Billy Bragg, Philip Munger, David Rovics, Christy Moore, Jim Page, Dawud Wharnsby Ali, Elizabeth Hummel with Carl Dexter, Valerie Webb with Paul LaBrecque, Ben Ellis with Lawrence Williams and music groups including Klimt 1918, Ten Foot Pole, The Can Kickers, Project Qua Project and Casa del Vento, internationally.

In 2004, Alaskan composer Philip Munger wrote a cantata about Corrie called The Skies are Weeping, which was scheduled to premiere on April 27 at the University of Alaska Anchorage, where Munger teaches. Many objected to the upcoming performance, including members of the Jewish community, and a forum was held, co-chaired by Munger and a local rabbi, who described the work as bordering on anti-Semitic and said it "romanticized terrorism." Munger later related that he had received threatening emails " short of what you'd take to the troopers", and that some of his students had received similar communications. After the forum "disintegrate", Munger announced, "I cannot subject 16 students... to any possibility of physical harm or to the type of character assassination some of us are already undergoing. Performance of The Skies are Weeping at this time and place is withdrawn for the safety of the student performers." The cantata was eventually performed at the Hackney Empire theatre in London, premiering on November 1, 2005.

In early 2005, My Name is Rachel Corrie, a play composed from Corrie's journals and e-mails from Gaza and directed by British actor Alan Rickman, was presented in London and later revived in October 2005. The play was to be transported to the New York Theatre Workshop, but when it was postponed indefinitely, the English producers denounced the decision as "censorship" and withdrew the show. It finally opened Off-Broadway on October 15, 2006, for an initial run of 48 performances. The play has also been published as a paperback, and performed in ten countries worldwide, including Israel.

In 2006, Australian playwright Ben Ellis wrote Blindingly Obvious Facts, a 10-minute fugue composed of "ugly" verbatim excerpts from right-wing blogs discussing Corrie's death. It was performed as part of the 2007 Melbourne season of the Short and Sweet short play competition. In early 2008, Sydney composer Lawrence Williams mixed a recorded version of Ellis' play for the play's Sydney Short and Sweet production.

Documentaries
Main article: Rachel (film)

In 2003, British Channel 4 and The Observer reporter Sandra Jordan and producer Rodrigo Vasquez, made a documentary that was aired June 2003 on Channel 4 titled The Killing Zone, about ongoing violence in the Gaza Strip". Jordan said: "There has been a lot of interest in Britain and around the world about what happened to Rachel, I find it highly disappointing that no serious American investigative journalist has taken Rachel's story seriously or questioned or challenged the Israeli Army version of events."

In 2005, BBC produced a 60 minute documentary entitled When Killing is Easy, described as "a meticulous examination of" James Miller, Tom Hurndall and Rachel Corrie's cases, while trying to find an answer to the question: "Were the attacks random acts of violence, or do they represent a culture of killing with impunity which is sanctioned by the higher echelons of the Israeli army?"

In 2005 Yahya Barakat, who lectures on TV production, cinematography, and filmmaking at al-Quds University, filmed a documentary in Arabic with English subtitles, named Rachel Corrie - An American Conscience.

In 2009, a documentary film titled Rachel is produced by Morocco born, French-Israeli director Simone Bitton detailing the death of Rachel Corrie from "an Israeli point of view". Its first North American public screening was at the 2009 Tribeca Film Festival.

See also
Search Wikimedia Commons Wikimedia Commons has media related to: Rachel Corrie

* Human shield
* ISM casualties in Palestine and Israel
* Iain Hook - British UNRWA project manager shot and killed by IDF in Jenin, November 22, 2002.
* James Miller - British film-maker shot and killed by the IDF in Gaza, May 2, 2003.

References
This article's citation style may be unclear. The references used may be made clearer with a different or consistent style of citation, footnoting, or external linking. (September 2009)

1. ^ a b Israeli Army Bulldozer Kills American Protesting in Gaza New York Times, March 17, 2003
2. ^ Gabrielle Banks (December 2, 2005). "Parents speaking out to keep alive memory of child killed in Gaza". http://www.post-gazette.com/pg/05336/616048.stm.
3. ^ a b c d Tomas Alex Tizon and Lynn Marshall (March 18, 2003). "Activist Had Soft Spot for Underdogs". http://articles.latimes.com/2003/mar/18/nation/na-corrie18. Retrieved 2008-12-12.
4. ^ a b Pat and Samir Twair (July/August 2003). "Southern California Chronicle: Hundreds Salute International Solidarity Movement, Rachel Corrie's Parents". Washington Report on Middle East Affairs: 62-64. http://www.wrmea.com/archives/july_aug2003/0307062.html.
5. ^ a b c d e f g h i j k l m n o p q r s t Joshua Hammer (September/October 2003). The Death of Rachel Corrie. Mother Jones. http://www.motherjones.com/news/feature/2003/09/ma_497_01.html. Retrieved 2008-12-12.
6. ^ Klein (5.22.03 article), as republished in Flanders, 2004, p. 182.
7. ^ Overview of events in Gaza since Feb 14th by Rachel Corrie from Gaza in 28 Feb 2003
8. ^ a b c Gordon Murray (April 3, 2006). "I am Rachel Corrie". Seven Oaks Magazine. http://www.sevenoaksmag.com/features/rachelcorrie.html. Retrieved 2008-12-12.
9. ^ 'Rachel Corrie' play opens in London after NYC cancellation, Canadian Broadcasting Corporation, March 31, 2006. See photo of burning of mock flag attached to article.
10. ^ Onward Muslim soldiers: how jihad still threatens America and the West, Robert Spencer, Regnery Publishing, 2003 page 285.
11. ^ "ISM Statement on the Killing of Rachel Corrie and its Aftermath", March 21, 2003, reposted at Rachel Corrie.Org.
12. ^ Rachel's war, e-mails from Rafah and The Guardian Comments & Features Guardian. 18th March 2003. Verified 8th May 2008.
13. ^ a b Corrie, Rachel (January 2008), Alan Rickman, Katharine Viner, ed., Let Me Stand Alone, W.W. Norton & Co., p. 273, hardcover, ISBN 978-0-393-06571-8, http://letmestandalone.com/
14. ^ My name is Rachel Corrie by Rachel Corrie
15. ^ http://www.seattlepi.com/books/354777_corrie13.html
16. ^ The Huffington Post Thoughts on the Death of Rachel Corrie May 22, 2009 David Bromwich Sterling Professor of Literature at Yale
17. ^ "American peace activist killed by army bulldozer in Rafah", Haaretz. March 18, 2003. Verified 8th May 2008.
18. ^ a b Israel e-News The Myth of Rachel Corrie
19. ^ CNN. Israeli bulldozer kills American protester. Israeli bulldozer runs over 23-year-old woman. March 25, 2003.
20. ^ BBC News. Israel calls Corrie death 'accident.' June 27, 2003
21. ^ Wenig, Gaby. Human Rights Activists or Aids to Terrorists?, The Jewish Journal of Greater Los Angeles 2003-09-12
22. ^ a b c Making of a martyr. Observer, Mar 23rd 2003. Verified 8th May 2008.
23. ^ a b Seattle Times Activists: Death was no accident; Arafat offers condolences. March 17, 2003
24. ^ a b Sourani, Raji (30 June 2003). "Impunity for US Peace Activist's Death". Palestinian Centre for Human Rights (PCHR). http://www.pchrgaza.org/files/PressR/English/2003/78-2003.htm. Retrieved 2008-12-31.
25. ^ Dispatches: the killing zone - Channel 4 News Joe (Smith) Carr's remarks occur 9 minutes and 50 seconds from the start of the documentary
26. ^ "Local News - Activists: Death was no accident; Arafat offers condolences". The Seattle Times. 2003-03-17. http://community.seattletimes.nwsource.com/archive/?date=20030317&slug=protester17m. Retrieved 2008-12-23.
27. ^ Ha'aretz. American peace activist killed by army bulldozer in Rafah March 18, 2003
28. ^ American Killed By Israeli Bulldozer, As Civilian Deaths Mount by The Forward"]
29. ^ Promoting Impunity: The Israeli Military's Failure to Investigate Wrongdoing re-published at the UNHCR website.
30. ^ Greg Barrett. Autopsy, military investigation differ on how activist died. Gannett News Service. June 11, 2003.
31. ^ Bulldozer Accident
32. ^ Israeli report clears troops over US death | World news | The Guardian
33. ^ Two Families' Dreams Were Not Demolished by Howard Blume, June 23, 2005 JewishJournal.com
34. ^ Rachel Corrie's parents endure brush with Gaza kidnappers, Jerusalem Post, January 5, 2006
35. ^ http://www.theolympian.com/home/news/20030614/frontpage/28005.shtml
36. ^ Boston.com / News / Boston Globe / Opinion / Op-ed / Seeking answers from Israel
37. ^ http://palestinechronicle.com/article.php?story=20030415073448759 http://www.realnews247.com/bbc_rachel_corrie_report.htm http://www.commondreams.org/headlines03/1030-05.htm
38. ^ HR 111: Investigation into Death of Rachel Corrie. Sept 9th 2003. Verified 8th May 2008.
39. ^ Seeking Answers from Israel by Cynthia Corrie. Mar 18th 2004. Verified 8th May 2008.
40. ^ Greens Call for an Investigation of the Murder of American Peace Activist Rachel Corrie by Israeli Forces by The Green Party of the United States Friday, March 21, 2003
41. ^ Amnesty International Condemns Killing of Rachel Corrie. March 17th 2003. Verified 8th May 2008.
42. ^ "Promoting Impunity: The Israeli Military's Failure to Investigate Wrongdoing". UNHCR Refworld. Human Rights Watch. 22 June 2005. pp. Immediately following footnote 286. http://www.unhcr.org/refworld/country,,HRW,COUNTRYREP,ISR,4562d8cf2,42c3bd100,0.html#_ftnref286. Retrieved 2009-01-05.
43. ^ Bradley Burston (17 March, 2006). "Who remembers Rachel Corrie?". Haaretz. http://www.haaretz.com/hasen/pages/ShArt.jhtml?itemNo=695210&contrassID=2.
44. ^ Boston Globe March 7 2008
45. ^ a b O'Hehir, Andrew (2009-05-03). "Rorschach "Rachel"". Salon. http://www.salon.com/ent/movies/btm/feature/2009/05/03/rachel/. Retrieved 2009-05-04.
46. ^ Tom Gross on The Forgotten Rachels (The Spectator, October 22, 2005)
47. ^ Business & Finance : Find Articles in American Demographics, Black Enterprise, Business Wire & More | Find Articles at BNET.com
48. ^ a b ""Students protest cartoon of Rachel Corrie: Newspaper's editors refuse to apologize for running it"". Associated Press (Seattle Post-Intelligencer). 2003-03-21. http://www.seattlepi.com/local/113561_cartoon21.shtml. Retrieved 2009-05-07.
49. ^ Palestine Media Watch
50. ^ "Flag Fury, College Cartoons, Candy Canes", Fox News, March 27, 2003.
51. ^ Radical Islam rising: Muslim extremism in the West, Quintan Wiktorowicz, Rowman & Littlefield, 2005, page 1.
52. ^ Haaretz.
53. ^ The Independent
54. ^ Bomb Britons "visited Gaza", BBC News, May 5, 2003; Malik, Shiv. NS Profile - Omar Sharif, New Statesman, April 25, 2006.
55. ^ a b Howard Blume (June 23, 2005). "Two Families' Dreams Were Not Demolished: Palestinian clan joins parents of Rachel Corrie, the activist killed by an Israeli army bulldozer". http://www.jewishjournal.com/community_briefs/article/two_families_dreams_were_not_demolished_20050624/.
56. ^ Yuritzi Jones (May 4, 2004). "Activist's parents pay tribute". http://daily.stanford.edu/article/2004/5/4/activistsParentsPayTribute. Retrieved 2008-12-12.
57. ^ a b Nathan Guttman (April 30, 2003). "'It's a terrible thing, living with the knowledge that you crushed our daughter'". Haaretz. http://www.haaretz.com/hasen/pages/ShArt.jhtml?itemNo=288495&contrassID=2&subContrassID=5&sbSubContrassID=0&listSrc=Y. Retrieved 2008-12-12.
58. ^ a b c Jim Teeple (January 4, 2006). "Palestinian Gunmen Attempt Gaza-Egypt Border Break". http://www.voanews.com/english/archive/2006-01/2006-01-04-voa42.cfm.
59. ^ a b Associated Press (2008-03-20). "Memorial to US activist in West Bank". http://www.usatoday.com/news/world/2008-03-20-2991863366_x.htm. Retrieved 2008-12-12.
60. ^ "How did Rachel Corrie become a Palestinian martyr?". The Observer. 2008-03-02. http://www.guardian.co.uk/world/2008/mar/02/israelandthepalestinians?commentpage=1. Retrieved 2008-12-16.
61. ^ "The Forgotten Rachels: Anti-Israel propaganda sells out on the London stage" Tom Gross also on The Spectator, October 22, 2005 Dead Jews Aren't News
62. ^ "Nonviolent protest in W Ramallah: Parents of Rachel Corrie speak, 17 injured, including journalists". Palestine News Network. 28 March 2008. http://english.pnn.ps/index.php?option=com_content&task=view&id=2580&Itemid=28. Retrieved 2009-01-19.
63. ^ Josh Richman (June 9, 2005). "Dead activist's parents to visit Oakland". Oakland Tribune. http://findarticles.com/p/articles/mi_qn4176/is_/ai_n15837394.
64. ^ Danielle Stratton-Coulter (2005-06-28). "Carrying on the fight". The Daily Iowan. http://media.www.dailyiowan.com/media/storage/paper599/news/2005/06/28/Metro/Carrying.On.The.Fight-959716.shtml.
65. ^ Corrie v. Caterpillar, Inc., 403 F.Supp.2d 1019 (W.D.Wash. 2005)
66. ^ Text of opinion by United States Court of Appeals for the Ninth Circuit. Sept 17, 2007. Verified 8th May 2008.
67. ^ Family of Rachel Corrie Sues Israeli Government and Caterpillar Inc. Two Years After She Was Crushed by Military Bulldozer. Mar 16th 2005. Verified 8th May 2008.
68. ^ a b CTV.ca | Palestinians bulldoze Gaza crossing, enter Egypt
69. ^ "Report: Palestinians bulldoze border fence, try to kidnap Corrie parents". Israelinsider. 2006-01-04. http://web.israelinsider.com/Articles/Security/7453.htm. Retrieved 2008-06-30.
70. ^ Kidnap gang threatened parents of peace 'martyr' - Telegraph
71. ^ Gunmen bulldoze wall to free accused man - Middle East, World - The Independent
72. ^ International Solidarity Movement » No Attempt to Kidnap Rachel Corrie's Parents
73. ^ by Jerusalem Post
74. ^ Occupation forces open fire on foreign peace activists from AR-Online translated from Arabic by Eric Mueller for Focal Point Publications website
75. ^ "Flashpoint Cantata", Anchorage Daily News, April 25, 2004, available at http://dwb.adn.com/life/story/5003946p-4931783c.html
76. ^ The Anchorage Press, Amanda Coyne, April 22 - April 28 2004
77. ^ "The Review". Camden New Journal (New Journal Enterprises). 28 October 2005. http://www.camdennewjournal.co.uk/102705/music.htm. Retrieved 2009-01-07.
78. ^ Too Hot for New York
79. ^ Walter A. Davis: the Play's the Thing
80. ^ Rachel Corrie Has Her Say as New York Premiere of Controversial Play Opens Oct. 15
81. ^ International productions of the Play
82. ^ http://parachuteofaplaywright.blogspot.com/2006/04/ideas-and-text-body-and-rachel-corrie.html
83. ^ http://www.shortandsweet.org/shortsweet/sydney/program-2008/seymour-week-2
84. ^ http://www.aussietheatre.com/revshortsweet08wk4a.htm
85. ^ Film on Rachel Corrie in the works Heather Woodward - The Olympian
86. ^ When Killing is Easy 2005 BBC Educational and Documentary Programmes on DVD
87. ^ Quest for truth over Gaza death by John Sweeney BBC, London
88. ^ Featured Story criticalconcern.com
89. ^ rachelcorrie.org
90. ^ Film Review Rachel Corrie - An American Conscience by Sonia Nettnin
91. ^ Washington Report, July 2005, pages 80-83
92. ^ Washington Report on Middle East Affairs, May/June 2005, pages 46-49
93. ^ Houpt, Simon (2009-05-04). "The 23-year-old activist who became a lightning rod". Globe and Mail. http://www.theglobeandmail.com/servlet/story/LAC.20090504.ACORRIE04ART1616/TPStory/Entertainment. Retrieved 2009-05-04.

Further reading

* Corrie, Rachel. "Letter from Palestine." Voices of a People's History of the United States. Ed. Howard Zinn and Anthony Arnove. New York: Seven Stories Press. pp. 609–610. ISBN 1-58322-628-1

Bibliography

* Let Me Stand Alone collected writings and memoirs of Rachel Corrie published in January 2008 by W.W. Norton & Company
* My Name is Rachel Corrie a theatre play drawn from Rachel Corrie's writings and edited by British actor Alan Rickman and Guardian editor Katharine Viner, published by W.W. Norton & Company
* Peace under fire Israel/Palestine and the International Solidarity Movement, by Josie Sandercock, Nicholas Blincoe, Radhika Sainath, Marissa McLaughlin, Hussein Khalili, Huwaida Arraf and Ghassan Andoni, Foreword Edward W. Said, by Verso Books, 2004, ISBN 1844675017, 9781844675012, 297 pages


"My name is Rachel Corrie" is a play based on Rachel Corrie's true story,the story of a 23year old girl from the States that was killed in the Gaza Strip,on March 16th 2003,under tragic circumstances(http://www.rachelcorriefoundation@org). The English actor Alan Rickman (www.alan-rickman.com), in collaboration with Guardian journalist Katharine Viner, adapted the writings that she left behind -with the permission of Rachel's family- for the theater. The play was first put on in April 2005 at London's Royal Court Theatre under the direction of Alan Rickman himself, and later was presented to a bigger audience in the West End's Playhouse Theatre from March to May 2006. The performance had great success in London and was granted the Theatre Goers' Choice Award for best new play, director and solo performance. The London play was scheduled to move to New York in March 2006 at the New York Theatre Workshop, but the production was postponed, and later canceled. Many famous artists, such as Nobel prize winner Harold Pinter, and famous actress Vanessa Redgrave, protested against the cenconrship. In the end the play took place at the smaller Minetta Lane Theate in October, which got mixed reviews by the American media. Brokenchair Theatre Company obtained the play's exclusive rights for Greece and put it on at the Fournos Theatre, from October 2007 to January 2008. The Greek Production was the second production of the play worldwide. The audience was deeply moved by the performance. Amongst them, Katharine Viner, who was invited to Greece by the Company and Theater for the premiere. The 11th Festival for Soloists and Protagonists invited the production, and hence the play was presented the 5th May in the city of Lamia. The annual edition for the Greek Arts "Yearbook 07-08" distinguished it as one of the most interesting performances of the year. «My name is Rachel Corrie» A play based on Rachel Corrie's writings Edited by: Alan Rickman/Katharine Viner Translation into Greek: Maria Paschalidou Direction: Theodoros Tsapakidis Actress: Despina Sarafidou Light Design: Tasos Palaioroutas Costumes/Stage Design: Katerina Barampouti Music: Nikos Psarianos Photos: Stefanos Zaharakis Production: «Brokenchair theatre company» Fournos Theatre 168 Mavromichali str., 114 72 Athens, Τ:210 64 60 748 e-mail:info@fournos-culture.gr / www.fournos-culture.gr Supported by the Palestinian an Arab Communities in Greece
Caterkiller (2005)
April 8th 2005, Manchester, UK. Caterpillar workforce surprised by Israeli arms trade protest.

Workers arriving at the Caterpillar - Perkins site in Irlam, Greater Manchester, UK, this morning were surprised, first by a 30 foot yellow banner with an acrylic image of a Palestinian, head in hands, whose house is being demolished by a Cat bulldozer while an Israeli soldier stands guard. The spray-painted text proclaims "Stop Caterpillar... Palestine... House Demolitions... Apartheid Wall... Perkins... 100% owned by Caterpillar... Israeli Tank Deal".

The banner flew from a mound of grass along the private road to the security gate, the only entrance this morning. Management had hunkered down on red alert with police and dogs on site since 2 a.m. expecting an invasion under cover of darkness, for some reason.

Drivers rounded the banner to be met by huge photos of armoured Caterpillar D9 bulldozers smashing into Palestinian houses, while children flee. Above the photos, the "Stop Caterpillar" logo.

Then came the megaphone, offering the slowing traffic soundbites on D9 demolitions and the "Apartheid Wall", and inviting them to stop and take a leaflet from protestors gathered in front of the security gate. Around 30 people had turned up from Manchester, Liverpool, Preston, and Brighton, converging on the gate at 6:30 a.m.

Irlam is the world distribution centre for Perkins diesel spares. Caterpillar bought Perkins in 1997. Perkins CV12 engines are incorporated in T72 tanks in a joint venture with the Israeli company NIMDA for re-export to the world market.

Irlam is also one of 3 Cat Logistics sites in the UK. Cat Logistics handles Caterpillar spares worldwide. A joint venture with Honeywell and BAe bid unsuccessfully for a logistics contract with the Australian Defence Forces.

Drivers now faced a choice - accelerate through the protest in full view of the cops, or drive safely and risk having to actually look someone in the face or even take a leaflet.

It was all too much for some - they kept their windows firmly sealed while staring straight ahead. Others were interested but scared that someone might notice, a few shouted at us and declined any discussion. But quite a number, especially those not driving a Jag, perhaps even walking to work, were curious enough to take our leaflet and the War on Want Shareholders anti-Report. Some knew nothing about their company's role in Palestine and thanked us for the information. Some knew of the issues and agreed with us completely. Some, it seems, were embarrassed to go into work through our line.

We were surprised by that, but even more so to discover that - apparently - the site is completely non-union. We began to encourage workers to join a union and take up their own issues.

To our knowledge this protest was the first to focus fully on the Caterpillar workforce, the people who could really put a stop to Cat's collaboration with ethnic cleansing in Palestine. It was a small first step.

Why not try it in your area?

You can also download the Caterpillar Alternative Report, in pdf format, from the War on Want web-site.

The soundtrack music "Mordechai" was composed by British singer-songwriter, Gerry Dempsey, as an homage to the Israeli nuclear whistle-blower Mordechia Vanunu. An mp3 file of this composiiton can be downloaded here.

What software can play these movies? See the streaming and download help links in the left panel above.


This movie is part of the collection: Manchester Antiwar Videoblog

Producer: Chris Edwards
Production Company: None
Audio/Visual: sound, color
Keywords: palestine; caterpillar; D9; bulldozer; Rachel; Corrie; Israel; IDF
Contact Information: chrisedwards2004@yahoo.com

Creative Commons license: Attribution-NonCommercial-ShareAlike

Individual Files
posted by u2r2h at 3:25 AM