Great Britain's new government in action -- Broken Britain
the un funniest cartoon ever. It must be a disgrace what they are doing.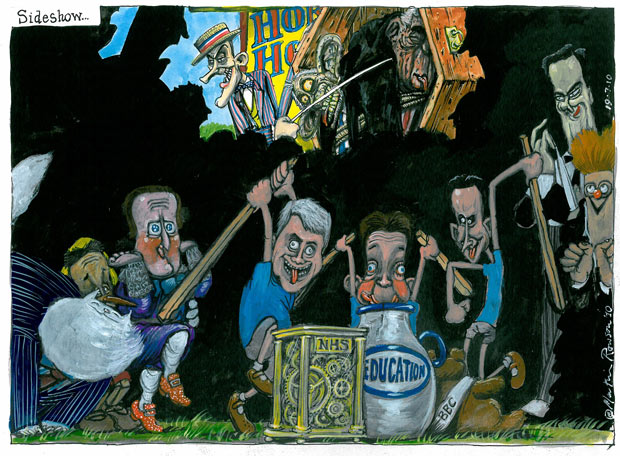 leading Tory MPs – who include Cameron's close ally Michael Gove – are listed alongside controversial MEP Daniel Hannan as co-authors of a book,
Direct Democracy
, which says the NHS "fails to meet public expectations" and is "no longer relevant in the 21st century".
Others listed as co-authors in the book, published shortly after the 2005 general election, include shadow cabinet members Greg Clark and Jeremy Hunt and frontbencher Robert Goodwill. Clark and Hunt were unavailable for comment last night.
Gove is also one of a group of more than 20 Tory MPs and MEPs who are cited as supporters of Hannan's views in another book, The Plan: Twelve Months to Renew Britain, published in December last year, in which Hannan and Tory MP Douglas Carswell describe the NHS as "the national sickness service".
Both books call for the NHS to be replaced by a new system of health provision in which people would pay money into personal health accounts, which they could then use to shop around for care from public and private providers. Those who could not afford to save enough would be funded by the state.
The revelations follow a furious row over Hannan's recent appearance on US television, in which he told Fox News that the NHS was a "60-year-old mistake" and urged Americans not to adopt a similar system if they wanted efficient, effective healthcare.
posted by u2r2h at 4:30 AM