11 September - WHAT THE FFFF HAPPENED TO US??
Figure 194.
Source:

p. 138 of 404 of pdf (labeled p. 94 of report),
THERE WAS ELECTICITY IN THE AIR IN NEW YORK
The towers were ZAPPED...  don't belive this, read for yourself!

THE SHOW EFFECT  the magic trick!!

We stand today at the dawn of an entirely new age. Man has in his hands a method of disrupting the molecular basis for matter and the ability to split the earth in half on a moments notice. (It gives the term, "scortched-earth policy" a new significance.) The technology that was demonstrated on 911 can split the earth in half or it can be used to allow ALL people to live happily ever after with free energy.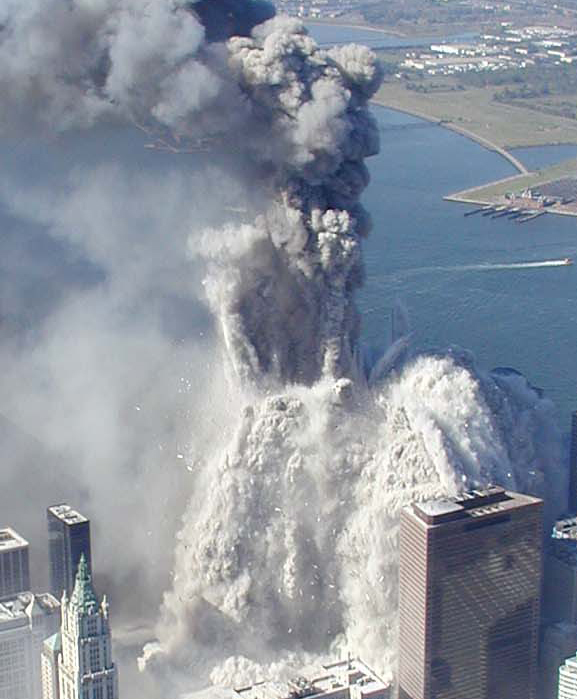 intellectual integrity prevents us from calling this a collapse!
intellectual integrity prevents us from calling this a collapse!
Figure 1.

Peculiar wilting of car doors and deformed window surrounds on FDR Drive.

Source

:

["

Sagging police car on FDR

"]

Figure 2. Burned out cars and bus along West Broadway. Consistently, they seem to have missing door handles. The gas tanks don't appear to explode.
Figure 15.
WTC1 is blowing "smoke rings"
Figure 16.
600x450 The basement: of WTC2
(9/18/01) entered Source
:
["
WTC2 Basement Puddle
"]
Figure 21. Steam? If this were steam, these workers would have been cooked. If this were as hot as a grill, these people would become something that looked more like a grilled-cheese sandwich. The hoses to their torches would melt and ignite the fuel.
(9/12?/01 entered) Source
["Grilled-Cheese Sandwich"]

Figure 22.

But, is this photo really what it seems? Note the exposed hydraulics.

(9/??/01) Source (also here and here)

["

Cheeto

"]

Figure 23. Temperature/viscosity diagram for ISO viscosity grades.
Brendan Casey, "Hydraulic Equipment Reliability: Beyond Contamination Control". Machinery Lubrication Magazine. July 2005
(6/16/07 accessed) Source
Figure 24. Cotton Candy - mold.
(10/31/01) Source
["Cotton Candy"]
Figure 25. These folks are alive, so how hot can it be?
(10/31/01) Source
["moldy-cotton Candy"]
Figure 26.
(?/?/01) Source
["moldy ground"]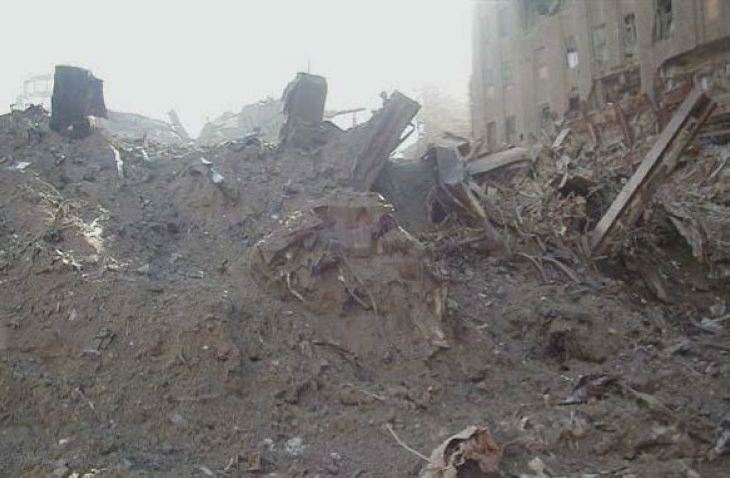 Source: G&S Technologies, reproduced with permission
Figure 33.
Figure A-9. Con Edison transformer #7 (or #5) uncovered from debris pile of WTC 7; photo taken midOctober, 2001.
source
: page 304 of 382 of pdf, (labeled page 642 of report)
Figure 175. Black fumes go west, white fumes go south. Source: space imaging

["

Fuming Dogleg

"]

Figure 176.

This photo of Hurricane Erin was taken mid-morning on 9/11/01. The eye has an unusual appearance

(9/11/01) Source:

["

Eye-worms

"]
posted by u2r2h at 7:47 AM