Trained to murder - Special Forces - Raymond Davis
A telescope, photographs of sensitive defense installations and makeup for a facial disguise were found in the car of a former U.S. Special Forces officer after he fatally shot two young Pakistani men from his car, according to reports.
The shooting of the two Pakistanis occurred Jan. 27 when Davis was in Lahore. The widow of one of the two men, Shumaila Faheem, committed suicide on Sunday by taking poison, Al-Jazeera reported.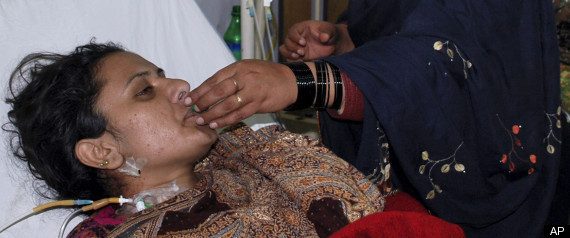 Shumaila Kanwal, Pakistani Woman, Commits Suicide After U.S. Shooting
Hamza Ahmed, AP
Pakistani police said Davis fired five shots from his Glock from his car and then got out of the car to finish off the job by shooting both men two times.
U.S. officials said Davis fired only five shots and remained inside his vehicle, The Washington Post reported.
A third Pakistani was run over and killed by a U.S. consulate vehicle that had come to assist Davis, police said.
Both official government accounts agree on at least one thing: The two dead Pakistani men were probably would-be robbers. That fact was based on a report from two
(paid?)
Pakistani citizens who came forward after seeing TV coverage of the crime and recognizing the men as having robbed them previously.
But to further complicate the already murky story, The Washington Post quoted an anonymous Pakistani intelligence official who said the motorcyclists were intelligence agents. A spokesman for Pakistan's main intelligence agency denied that Tuesday.
Alternative websites and the blogosphere -- as well as Pakistani media -- are awash in speculation about whether Davis was a diplomat or a spy or mercenary. He was reportedly found to be in possession of pictures of Pakistani army installations.
Counterpunch magazine investigated the company Davis said he works for in the U.S.,
Hyperion Protective Consultants
. The company website gives an address in Orlando, Fla.
Counterpunch said it could find no evidence that Hyperion is a real company.
"First, there is not and never has been any such company located at the 5100 North Lane address," the site reported. "It is only an empty storefront, with empty shelves along one wall and an empty counter on the opposite wall, with just a lone used Coke cup sitting on it. A leasing agency sign is on the window."
The U.S. has stepped up pressure on Pakistan by sending three members of the House of Representatives to meet with Pakistani Prime Minister Yousuf Raza Gilani. They told him that Congress was working on its budget and looking for areas to cut.
"It is imperative that they release him and there is certainly the possibility that there would be repercussions if they don't," Rep. John Kline, a Republican from Minnesota, told reporters on his return, Agence France-Presse reported.
He was a security contractor from a Florida-based firm, Hyperion Protective Consultants, LLC.. – File Photo LAHORE: Deputy Prosecutor General of Punjab, Rana Bakhtiar said on Sunday that Raymond Davis had fired the bullets from the back thus it was not a case of 'self defense' as he had stated earlier. Rana also said that Davis, charged with murder of two motorcyclists in Lahore, did not hold any special privileges as a diplomat. Referring to Article 49-2 of the Vienna Convention, he said that diplomatic officials only hold privilege when they are on duty, but Davis was in Pakistan on a business visa. Davis is being described by the American media as a security contractor from a Florida-based firm, Hyperion Protective Consultants, LLC.
posted by u2r2h at 5:00 PM