peter power london 7/7 terror rehearsal
Peter Power LISTEN TO HIS UNREHEARSED WORDS:
http://www.youtube.com/watch?v=JKvkhe3rqtc
http://www.youtube.com/watch?v=sEbUQiYOGjU
(Yes, he was scared. He was going public to make himself unassassinatetable, un-sudden-accident-able, un-suicide-dable)
Later felt he could please his masters by retracting, but he only revealed more:
British Broadcasting CorporationBBCHome
User Profile
PGPOwer
Listed below are comments made by PGPOwer between Sunday, 5th October 2008 and Friday, 3rd July 2009.
    * The Conspiracy Files: 7/7 09:57am on 03 Jul 2009 Its so unfortunate that almost everyone commenting here has to hide behind some form of curious identity. For example, CardboardCutout? Having taken part in the programme and made available to the producer all of our exercise material used in 2005, I thought the BBC did well to give so many people the chance to speak, although it would have be interesting to see the reactions of Dr Mohammed Naseem the chairman of Birmingham Central Mosque when informed that he had been totally duped by a Mr John Hill, also known as Muad Dib and self proclaimed Messiah who made the 7/7 Ripple effect CD that Dr Naseem felt compelled to copy 2000 times.
      I have no intention of adding any more to this site, other than to say to whoever is ninteenseventythree (ref 187) I never once said we were running an exercise for 1000 people. That was the size of the client company. We ran an exercise for 6 people.
      Peter Power
    * The Conspiracy Files: 7/7 09:33am on 26 Jun 2009 Several months ago I supported the BBC team making the subsequently postponed 7/7 Conspiracy Files programme (now to be broadcast 0n 30 June) as I had the temerity to say on UK TV on 7 July 2005 that my company had that day also run an exercise involving simultaneous bombs on the London underground. A few days before so had more than one major London based origination and before that a BBC Panorama programme had done the same thing. The point being that the underground system in London has since 1885, been one of the most attacked structures in the UK apart from Belfast.
      It follows that a company like ours that helps many organisations prepare for crises (a) always seeks to run one or more client based exercises and (b) will choose a scenario based on a realistic threat analysis. My comment on TV four years ago was intended to encourage others to do the same and at a time when the terrorist threat level remains very high to test their response in advance.
      A message on this site dated 24 June mistakenly says that both 9/11 & 7/7 the respective governments were engaged in training simulations. The inaccurate assumption being our exercise that day was part of government training.
      Regrettably there are many people who will always put conspiracy above coincidence and we still get menacing or otherwise nuisance emails and telephone calls every day.
      Having already made available to the BBC our unexpurgated exercise material used in 2005 I look forward to this programme on 30 June and hope it will debunk some of the rather bizarre stories. However, I would still rather live in an open society where people can challenge official statements, but they in turn must be prepared to reconsider their assumptions if a cogent case is made to separate fact from fiction. I hope this will be the case next week.
      Peter Power
    * Controversy and conspiracies II 1:48pm on 05 Oct 2008 There has been much nonsense written about why my company ran an exercise on 7 July 2005 that had very close parallels to the real thing that day. Since then I have made several attempts to add my own comments to numerous sites that seem to get increasingly excited about their own conspiracy theories and in the process exclude any rational debate. It seems those who occupy the world of finding conspiracy theories to replace just about any coincidence, do not want to have any dialogue with those offering a different view, but I have not yet given up hope. I am therefore hoping, perhaps naively, that someone might like to read an honest and factual account about a particular exercise my company ran in London three years ago.
      Unfortunately, the BBC have just postponed a programme in their 'conspiracy files' series that would have done this. Our client three years ago agreed to be named in the BBC programme since the attitude of the producer and his team was very balanced (several conspiracy theorists were also invited to take part). We even allowed our complete exercise material to be made available to the BBC. Regrettably broadcasting it now might jeopardise an ongoing court case, so they had little choice about postponing it to next year.
      Early in 2005 Reed Elsevier, an organisation specialising in information and publishing that employs 1,000 people in and around London, asked us to help them prepare an effective crisis management plan and rehearse it before sign-off. Several draft scenarios were drawn up and the crisis team themselves set the exercise date and time: 9.00am on 7 July.
      The test was planned as a table-top walk through for about six people (the CM team) in a lecture room with all injects simulated. Everything was on MS PowerPoint. The location of their Central London office near to Chancery Lane was chosen as one test site. With many staff travelling to work via the London underground system, the chosen exercise simulated incendiary devices on three trains, very similar to a real IRA attack in 1992, as well as other events.
      As there had been eighteen terrorist bomb attacks on tube trains prior to 2005, choosing the London Underground was logical rather than just prescient. With this in mind it was hardly surprising that Deutsche Bank had run a similar exercise a few days before and, prior to that, a multi-agency (and much publicised) exercise code-named Osiris II had simulated a terrorist attack at Bank tube station. Moreover, I had also taken part in a BBC Panorama programme in 2004 as a panellist alongside Michael Portillo MP et al, in an unscripted debate (we had no idea at all what the scenario was to be?) on how London might once again, deal with terrorist attacks, only this time it was fictional (created entirely by the BBC).
      In short, some of the research for our exercise had already been done. The scenario developed for our client even started by using fictitious news items from the Panorama programme then, as with any walk through exercise, events unfolded solely on a screen as dictated by the facilitator without any external injects or actions beyond the exercise room. Also factored into the scenario was to be an above ground fictitious bomb exploding not far from the head office of the protected Jewish Chronicle magazine where for exercise purposes, our imagined terrorists would have been aware that commuters would now be walking to work (past a building already considered a target) as some tube stations would have been closed.
      Of just eight nearby tube stations that fell within possible exercise scope, three were chosen that, by coincidence, were involved in the awful drama that actually took place on 7 July 2005. A level of scenario validation that on this occasion, we could have done without.
      An exercise that turns into the real thing is not that unusual. For example, in January 2003, thirty people were injured when a tube train derailed and hit a wall at speed. At the same time, the City of London Police were running an exercise for their central casualty bureau where the team quickly abandoned their plans and swung into action to cope with the real thing.
      For a surprising number of people such coincidents cannot be accepted as such. There just has to be a conspiracy behind them, despite the obvious point that painstaking research will always identify probable above possible scenarios. By the way, the only reason I was asked to speak on TV news that day, when there was still much confusion about the real tragedies, was to encourage more organisations to thoroughly plan their own exercises knowing the threat of terrorism is and remains, very real. One tragic consequence being Islam, a great Abrahamic, monotheistic faith (along with Judaism and Christianity), has undeservedly become vilified by some people.
      Peter Power
      Visor Consultants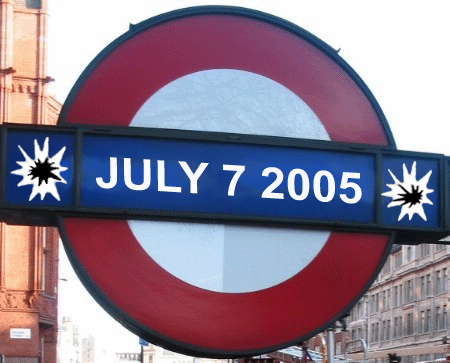 BBC © MMX
The BBC is not responsible for the content of external sites. Read more.
This page is best viewed in an up-to-date web browser with style sheets (CSS) enabled. While you will be able to view the content of this page in your current browser, you will not be able to get the full visual experience. Please consider upgrading your browser software or enabling style sheets (CSS) if you are able to do so.
http://www.bbc.co.uk/blogs/profile/?userid=13498905
Peter Power on Radio 5 Live's Drivetime
The first of Mr Power's interviews was given on the afternoon of 7th July 2005, presumably after Mr Power had finished orchestrating his private terror rehearsal, when he appeared on BBC Radio 5 Live's Drivetime programme. Below is a transcript from the Radio 5 Live programme, complete with a link to a recording of the interview:
POWER: ...at half-past nine this morning we were actually running an exercise for, er, over, a company of over a thousand people in London based on simultaneous bombs going off precisely at the railway stations where it happened this morning, so I still have the hairs on the back of my neck standing upright!

PETER ALLEN: To get this quite straight, you were running an exercise to see how you would cope with this and it happened while you were running the exercise?

POWER: Precisely, and it was, er, about half-past nine this morning, we planned this for a company and for obvious reasons I don't want to reveal their name but they're listening and they'll know it. And we had a room full of crisis managers for the first time they'd met and so within five minutes we made a pretty rapid decision, 'this is the real one' and so we went through the correct drills of activating crisis management procedures to jump from 'slow time' to 'quick time' thinking and so on.

Listen to Peter Power's Radio 5 Live Drivetime Interview
Note how Power refers to 'simultaneous bombs going off'. Note also that it wasn't until 9th July 2005, two days after the incidents, that it was revealed the explosions on the underground were 'almost simultaneous'. Power's fictional scenario, as explained by the man himself on the day, bears a closer resemblance to the eventual story of 7/7 than it does to the actual story that had been presented to the public by the police and authorities at the time of his interview.
Only ex-Mossad Chief, Efraim Halevi who wrote in the Jerusalem Post on 7th July 2005 of "the multiple, simultaneous explosions that took place today on the London transportation system" with "near pefect execution" was able to demonstrate the same level of 'insight' as Mr Power. Note: The original article is no longer available on the Jerusalem Post web site although copies can be found on the web.

Peter Power on ITV News: 7/7 Vision at 20:20
A short while after his appearance on BBC Radio, at 20:20 on 7/7, Peter Power gave a television interview to ITV news which revealed a little more about the nature of the operation as well as hinting at the sort of organisations for whom the operation might have been organised:
POWER: Today we were running an exercise for a company - bearing in mind I'm now in the private sector - and we sat everybody down, in the city - 1,000 people involved in the whole organisation - but the crisis team. And the most peculiar thing was, we based our scenario on the simultaneous attacks on an underground and mainline station. So we had to suddenly switch an exercise from 'fictional' to 'real'. And one of the first things is, get that bureau number, when you have a list of people missing, tell them. And it took a long time -

INTERVIEWER: Just to get this right, you were actually working today on an exercise that envisioned virtually this scenario?

POWER: Er, almost precisely. I was up to 2 oclock this morning, because it's our job, my own company. Visor Consultants, we specialise in helping people to get their crisis management response. How do you jump from 'slow time' thinking to 'quick time' doing? And we chose a scenario - with their assistance - which is based on a terrorist attack because they're very close to, er, a property occupied by Jewish businessmen, they're in the city, and there are more American banks in the city than there are in the whole of New York - a logical thing to do. And it, I've still got the hair....
Peter Power on the Canadian Broadcasting Service
In the days after 7th July, rather than face questioning about his role, in conjunction with a 'company of over a thousand people' on the day that 56 were killed on London transport, Power flew to Toronto for the 15th World Conference on Disaster Management.
Power appeared on a discussion panel for the Canadian Broadcasting Corporation's news discussion programme CBC News: Sunday, in which the host remarked upon the 'extraordinary' coincidence of Power's rehearsal scenario:
Evan Solomon: We've heard something quite extraordinary - could be a coincidence or not - that your firm, on the very day that the bombs went off in London, were running an exercise simulating three bombs going off, in the very same tube stations that they went off. How did this happen? Coincidence, or were you acting on information that you knew?

Peter Power: I don't think you could say that we had some special insight into the terrorist network, otherwise I would be under arrest myself. The truth of it is -

Solomon: But it is a coincidence.

Power: It's a coincidence, and it's a spooky coincidence. Our scenario was very similar - it wasn't totally identical, but it was based on bombs going off, to the time, the locations, all this sort of stuff. But it wasn't an accident, in the sense that London has a history of bombs, and the reason why our emergency services did so well, and prepared probably better than any other city in the world, sadly they have to be. So it wasn't exactly rocket science or totally out of the pale to come up with that scenario unusual though it be to stop the exercise and go into real time, and it worked very well, although there was a few seconds when the audience didn't realise whether it was real or not.
Mr Power went on to tell delegates at the disaster management conference that Canadians needed to open their eyes. He said, "You can't just lay back and say, 'Well it's cozy, we've been lucky. We're just nice guys. It won't happen to us. Sorry. The alarm bell is ringing now. When it happens, you don't want to say, 'well that was a wake-up call'."
'Mock Broadcasts' and the 7/7 terror rehearsal
On 8th July 2005, the day after the death and destruction in London, an interview with Peter Power appeared on page 5 of the Manchester Evening News in which Mr Power revealed that, not only had he coincidentally been running a terror rehearsal 'based on simultaneous bombs going off precisely at the railway stations where it happened' on 7th July, he had also organised a series of 'mock broadcasts' for the rehearsal operation that were apparently so realistic those participating in the exercise became confused about what was real and what was not:
Mr Power said: "I was an inspector at the time of the King's Cross fire and was involved in co-ordinating the operation.

"After leaving the Met, I set up my own crisis managment consultancy.  Yesterday we were actually in the City working on an exercise involving mock broadcasts when it happened for real.

" When news bulletins started coming on, people began to say how realistic our exercise was - not realising there was an attack. 

We then became involved in a real crisis which we had to manage for the company."

Mr Power added: "During the exercise we were working on yesterday, we were looking at a situation where there had been bombs at key London transport locations - although we weren't specifically looking at a scenario where there had been a bomb on a bus.

"It's a standard exercise and briefing that we carry out."
http://www.julyseventh.co.uk/july-7-terror-rehearsal.html
Coincidence of bomb exercises?
It began when Peter Power, one time high ranking employee of Scotland Yard and member of its Anti-Terrorist Branch, reported in two major UK media outlets that his company Visor Consulting had on the morning of 7th of July been conducting 'crisis exercises' whose scenarios uncannily mirrored those of the actual attack.

In interviews on Radio 5 Live and ITV News, Power appeared to claim the exercises involved 'a thousand people' as well as a dedicated crisis team whose number was not specified. The consultant described the simulation of 'simultaneous attacks on a underground and mainline station' and 'bombs going off precisely at the railway stations' at which the actual bombings occurred.

Visor's crisis team, Power explained, were planning to practice the switch from what he called 'slow time' thinking to the 'quick time' thinking required by a crisis situation. In the event, they were forced to do so for real. 'Unusual though it may be to stop an exercise and go into real time,' he comments, 'it worked very well - although there were a few seconds when the audience didn't realise whether it was real or not.'

Three days after the London bombings, Power was in Toronto for the 15th World Conference on Disaster Management. There, he took part in a discussion panel for the Canadian Broadcasting Corporation's news discussion programme CBS: Sunday Night, in which he was quizzed again about what the host called the 'extraordinary' conjunction of his company's planned scenarios and the actual events. Power dismissed this as 'spooky coincidence'.

'Our scenario was very similar, but it wasn't totally identical,' he said. 'It was based on bombs going off - the time, the locations, all this sort of stuff. But it wasn't an accident, in the sense that London has a history of bombs.'

To many, this seemed a huge story wilfully ignored by the mainstream media. Online publishers stepped in to add fuel to the fires of indignation. Colman Jones, an Associate Producer on CBS:Sunday Night, claimed in his blog that, while escorting participants from the building, he enquired of Power 'why there had not been more media coverage of this.' 'They were trying to keep it quiet,' Power purportedly responded, with what Jones called 'a knowing smile.'

The rumours spread like wildfire: perhaps something lay behind the 'co-incidence' presented by Mr. Power. Prison Planet, the investigative journalism site which initially drew attention to the Radio 5 Live comments, set the tenor of online coverage in an article entitled 'London Underground Bombing "Exercises" Took Place at Same Time as Real Attack'. Here the authors argued that the simulated attacks were, whether Power knew it or not, intended to act as a cover for the real ones.


Part two of JJ King's report on the exercises that took place on the day of the London bombings.
'Whether Mr. Power and Visor Consultants were "in on the bombing" [...] is not that important,' their report stated. 'The British government or one of their private company offshoots could have hired Visor to run the exercise for a number of purposes. This is precisely what happened on the morning of September 11th 2001 with the CIA conducting drills of flying hijacked planes into the WTC and Pentagon at 8:30 in the morning.'

News agency Al Jazeera agreed, baldly asserting that 'The London Underground exercises were used as the fallback cover to carry out the attack.'

The background to these startling claims has to be appreciated. The idea that simulations and scenarios were used as decoys for intelligence activity around 9/11 has gained some currency amongst those who decry the 'official version' of events. Occasional reports in the mainstream media have added weight to the speculation.

Associated Press, for example, reported a 'simulated accident', scheduled for September 11th, 'in which an errant aircraft would crash into one of its buildings.' The article reports a spokesperson for the intelligence agency running the simulation, the ultra-secretive National Reconnaissance Office, describing the conjunction as a 'incredible coincidence' - just as Power did.

In the frenzy of linking, cross linking and careless speculation, however, it appears most self-publishers - and Al Jazeera - failed to contact Visor to corroborate their claims. In fact, the 'exercises' he spoke of on Five Live were carried out purely 'on paper', or at least PowerPoint, by a small group of seven or eight executives (Power remains tight-lipped about the client) seeking to examine the impact on corporate decision-making of a potential crisis situation. As Fintan Dunne, editor of BreakForNews.com points out, 'these types of private-sector "risk management" drills never use field staff.

Neither do [such] low-level corporate drills have active involvement of police or other security forces.' The exercise, therefore, was 'in no way comparable to U.S. drills and wargames on 9/11 - which were being run by active-duty security forces in the U.S. military, federal agencies, the FAA and various emergency services.'

As Power explained, the London bombing scenario was in fact one of three explored: another looked at the disruption that might be caused by unruly anti-globalisation demonstrators. In no case was there any real mobilisation of physical or human resources, which makes the case for 'planned' intelligence alibi look awfully flimsy, if not downright silly.

In the light of a brief interview with Power, the 'unbelievable' coincidence of events suddenly seems entirely comprehensible: the train stations targeted, after all, were all in central London -- any planner would pick these amongst a list of possible targets.


Indeed, in developing the London bombing scenario used in this exercise, Power's consultancy drew on the sort of scenario already explored in
operation northwoods GOOGLE and
radar
Osiris 2
, a much-publicised major exercise initiated in the City of London to simulate a poison gas attack on the underground. Power further utilised his experience of taking part in Panorama's programme
'London Under Attack'
, another timely simulation.

And the date? That is indeed coincidence -- but an unbelievable one? 'Every week across the UK there are probably about hundred exercises, tests and simulations going on to get crisis teams familiar with their roles,' Power insists. 'We certainly do this regularly for many clients, the vast majority of them paper-based.'

Given this, the likelihood that one such simulation should fall on the day of an actual disaster is relatively high. Perhaps, who knows, that's the even case with oft-quoted simulations like the NRO's. 'When you hear hooves, think horses, not zebras,' goes the often-quoted popularisation of Occam's Razor.

In the absence of journalistic nous, bloggers would do well to stick by it.
http://www.channel4.com/news/articles/uk/coincidence%20of%20bomb%20exercises/109010
posted by u2r2h at 12:01 PM